FEATURED POST
On pauses, being British, not being famous, secrets and 'Full Metal Jacket'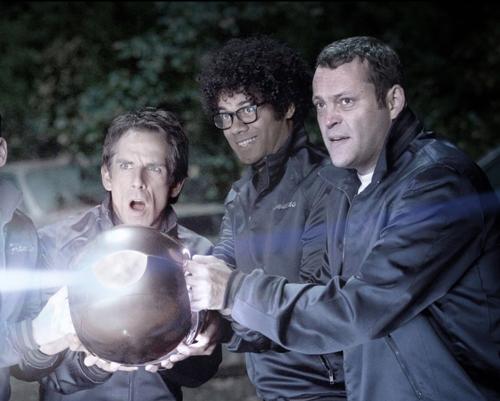 With his shock of hair atop his gawky frame, Richard Ayoade couldn't possibly look more British. But the actor, fortunately, is, and this helps him immeasurably in this role as Jamarcus, a divorcee who joins in the fun when Ben Stiller, Jonah Hill and Vince Vaughn form "The Watch." Ayoade is best-known here, if at all, for his direction of "Submarine" and his hilarious work on British TV comedies like "The IT Crowd." Under director Akiva Schaffer in 'The Watch," however, Ayoade comes across more as a secret weapon than an unknown quantity ...
MSN Movies: You were saying at the film's press conference rather hilariously but not without a note of truth that your wife had been making fun of you. Her joke was that you looked as if you had won a contest to appear in a film with Mr. Stiller, Mr. Vaughn, and Mr. Hill. I'm really curious about when you have an actor who is very much a wild card, or a straw that stirs a drink like you are here: How exactly did you come onboard?
Richard Ayoade:  I have no idea, really. I think someone must have dropped out at the last minute. Also, I'm very cheap. You know, and I think they probably would've spent all the cash budget on those three, and I'm as cheap as it's legally possible for an actor to be. So I think those two things were both very attractive to them.
But all kidding aside though, don't you find -- I mean you're a director, you're working on your second film, you obviously watch films a lot, and perceptively. Don't you find it weird when you can look at a movie and go, "Oh, that actor, I know them, therefore they will wind up being the mole in the secret service or the future lover of the unhappy fiancé"? Don't you find seeing an overly familiar actor can often kind of mar a film?