FEATURED POST
'We made more money per-screen than Joss Whedon's "The Avengers ..."'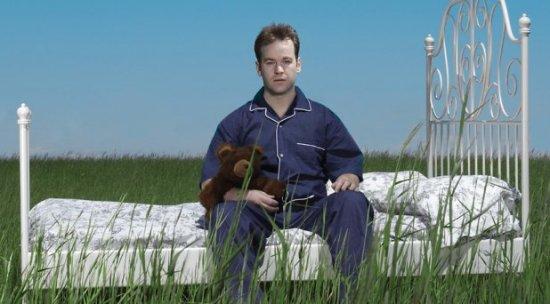 After a few idle stand-up riffs about his real-life problems turned into something more, Mike Birbiglia now finds his experiences -- and neurological concerns -- on the big screen in "Sleepwalk With Me," based on his one-man show and NPR "This American Life" radio essay. Birbiglia and producer Ira Glass (the horn-rimmed mastermind behind "This American Life") met with us in L.A. to talk about movie-making versus radio, their small comedy versus "The Avengers" and about making the movie of your dreams -- literally -- with an all-too-real microbudget.

MSN Movies: The piece worked as a series of jokes and then it worked as a more connected series of jokes connected to a narrative of your life;  how exactly did it go from being an internalized part of your act to Mr. Glass being involved in the hope this might make for some good ol'-timey radio?
Mike Birbiglia: I think I just learned something about coming in and doing an interview where if both interviewees look really tired ... if you have energy, I feel roused to have more energy.
Ira Glass: Yeah.
I've just been out there doing Red Bull and Whippits all afternoon.
Birbiglia: Oh wow. (Laughs)
I'm kidding. But I mean, in all seriousness, how did you become aware of this piece?
Glass: One of my producers heard a recording of Mike doing a 15 minute version that he performed on stage. He thought, "This is great, you've got to put this on the radio." I agreed. I called Mike to ask if we could put this on the radio, and then after that we started collaborating on a bunch of radio pieces where he would write things for the show. We would edit them and go back and forth in a normal kind of editor-contributor relationship, and then at some point he suggested that he wanted to make the thing into a movie and that he wanted to do it and it seemed like it could be interesting.
There are two interesting questions that come with this. One was, Mr. Birbiglia, your 15-minute bit is great. but with an idea to adapt it to film, saying "Let's pump air into it and make it bigger," was there a worry that it couldn't structurally support that kind of expansion?
Birbiglia: Well, that was part of the process of a one-man show more than the movie. 'Cause the one man show was about 80-90 minutes long. And with something that I actually worked on for -- this is so crazy -- since 2003, I've been working on a one-man show. So this material itself in its rawest form I've been working on for like seven years.
Glass: Sleepwalking, which threatens your life…
Birbiglia: Yeah.
Glass: Is transforming your life. First by giving you a one-man show and now a movie.
Birbiglia: Sure.
Glass: A heroic figure from a fable. The thing which could kill you gives you life ...