FEATURED POST
Film will mark his first solo action vehicle since 'Abduction' bombed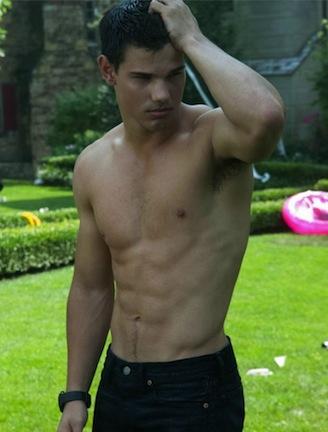 Last fall's "Abduction" could have been really good, a sort of "Jason Bourne" for the Twi-hard set. Instead, it was merely "eh..." and all but erased Taylor Lautner's hopes of becoming a bonafide action star.
Still, actors with such chiseled good looks and inherent athleticism—just Bing "Taylor Lautner karate" and you'll see what we're talking about—don't grow on trees. (Although, knowing Hollywood, there's probably a scientist locked up in a dank basement somewhere, slaving away on a morally dubious/possibly illegal "young action star" cloning/genetic engineering project.)
Anyway, it seems that Taylor Lautner will be given another chance. According to
Deadline
, producers have tabbed Lautner to star in "Tracers," a thriller about a Manhattan bicycle messenger who literally runs into a beautiful stranger and then gets sucked into her world of dangerous, high-stakes "free running," also known as Parkour. (For other cinematic examples of the form, see also: the opening chase scene in "Casino Royale," Luc Besson's "District B13," Luc Bessons' "District B13: Ultimatum," etc.)
For the record, we're totally on-board with the whole Taylor Lautner, action star idea. (Even if this particular project smells a little too much like Joseph Gordon-Levitt's "Premium Rush.") In fact, we think Lautner's the next Tom Cruise. Like a young Tom Cruise, Lautner is impossibly handsome, not terribly overwhelmed with talent, and can seem more than just a little unhinged at times. (He performs all—or at least most—of his own stunts! With that face?? What is he, crazy?!?) We think Lautner should acknowledge as much and just go ahead and produce and star in remakes of "Risky Business," "All The Right Moves," "Cocktail," and, well, that rumored sequel to "Top Gun" we keep hearing about. Blasphemy? Nah. (None of those films are exactly classics to begin with.) Awesome? You decide.
So, what do you think, Hitlisters? Is Taylor Lautner a star? Or just a bland beefcake lucky enough to be caught up in the Robert Pattinson phenomenon? Could he be the next Tom Cruise? Or should he ape the career of some other actor? And if so, who? As always, please discuss in detail and ad nauseum in the comments...