FEATURED POST
'All I wanted was to lose control, and I did.'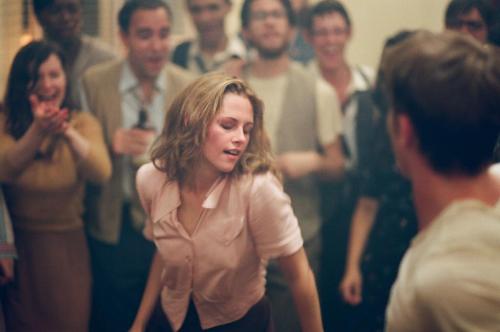 Shoeless in an orange jacket, vibrating with energy, Kristen Stewart meets the press in Cannes for her new film "On the Road" with smiles and enthusiam. Directed by Walter Salles, the film's an adaptation of the renowned novel by Jack Kerouac, a barely-fictionalized​ account of his travels with Neil Cassady;  Stewart's character is a fictionalized version of Casssady's wife LuAnn, a muse and paramour with her own role to play in the journeys -- physical and emotional -- the book chronicles. We spoke with Stewart as part of a roundtable of journalists.
Did you feel a little blessed, being able to do things as liberated as this part allowed you to do ?
Stewart: No. I couldn't be farther from that. Not that I don't feel at liberty with myself, it's just that everything she does is generous, everything she does is so outward. I tend to laugh at myself. I'm much more like Sal, and I sit and watch people. When I read the book for the first time, I was like 'I need to meet people that I can run after.' It represents a stage of life that you do get to start to choose your friends and you get to choose who your family is. Because of the way I feel about it, all I wanted was to lose control, and I did. It was difficult, only beforehand. I mean the lead up in my mind, I didn't know if I had it in me. I don't think you can change who you are. I think you get lucky when you find parts that you identify with. She moved me so much. I knew that there had to be these qualities buried very deep inside, but it was hard to find them, but once they were there we had weeks of full-blown really intensive prep. By the end of it, it was so easy to trust that it was going to find its way into your body, and it didn't have to be in your mind anymore. It was so cerebral at first, and then I trusted myself implicitly. It's because of Walter. He puts you in a world that is so undeniable, it's breathing. It's forward motion. I mean, I never looked back. There's no room for modesty in the movie, obviously; it would be so wrong. A truer version of this book is one that is learned, forgotten and then rediscovered. You don't want a recital of "On the Road" ...

More on Bing: Latest Buzz on 'On the Road'
Is she doing all of this just to help the men in her life, like Sal and Dean?