FEATURED POST
Special effects makeup artist Howard Berger and head hairstylist Martin Samuel went for the essence of the real-life characters rather than exact likenesses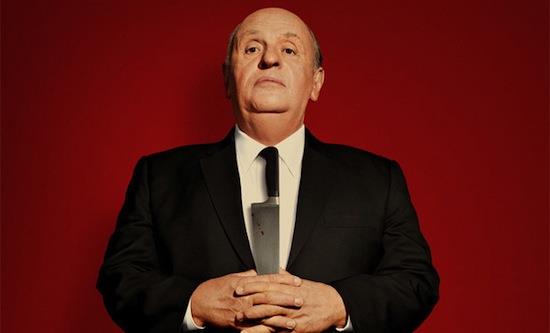 Being a huge fan of director Alfred Hitchcock, I was a little nervous as I walked into Sacha Gervasi's new film (based on Stephen Rebello's book about the making of "Psycho"). No matter how great an actor Anthony Hopkins is, would I be able to accept him as the famous "Master of Suspense?" How about Helen Mirren as Alma Reville, Hitchcock's wife, or the other real people depicted in the film, including Scarlett Johansson as  Janet Leigh, Jessica Biel as Vera Miles, and James D'Arcy as Anthony Perkins? I needn't have worried. Within the first ten minutes of watching "Hitchcock," I had completely bought into the world Gervasi's film created, thanks in no small part to the talented people who transformed these contemporary actors into their period counterparts. Yesterday, Oscar-winning makeup effects artist Howard Berger ("The Chronicles of Narnia: The Lion, the Witch, and the Wardrobe") and Oscar-nominated head hairstylist Martin Samuel ("Pirates of the Caribbean") made the short list for the upcoming Academy Award competition in the field of Makeup and Hairstyling against such films as "Lincoln," "Les Misérables," and "The Hobbit: An Unexpected Journey." I recently sat down with Berger and Samuel to talk about their work on this wildly entertaining film.

MSN Movies: I was stunned by how much I accepted Anthony Hopkins as Alfred Hitchcock even though he didn't look like the spitting image of the director.
Howard Berger: We didn't want to approach it as if we were going for an exact likeness. We thought of it more as an interpretation. We looked at both Tony and Alfred Hitchcock and we found the things that we felt best suited Tony for his performance. Our main goal was to give Tony tools to work with to help him find the character and bring it to life.
Was there a lot of trial-and-error in coming up with the right look?
Howard: Yes, that was one of the first things we said to Sacha and the producers—that we needed to make tests, that was very important. It's not like the first horse out of the gate was going to be the winner. That almost never happens.
Martin Samuel: We did the tests in February of this year and then started shooting in April.
Howard: I think we ended up doing six different tests with Tony—which included different hair, different makeup, different suits. We worked very closely with Julie Weiss, the costume designer.

Did you do tests where you tried to make Hopkins look physically more like Hitchcock?
Howard: We did, actually. In the very first test he  looked a lot more like Hitchcock but it wasn't appropriate for him. We looked at the dailies and realized we didn't want to do a total likeness because then we're disguising Tony, we lose Tony.