FEATURED POST
Yes, this is a real thing that is actually happening.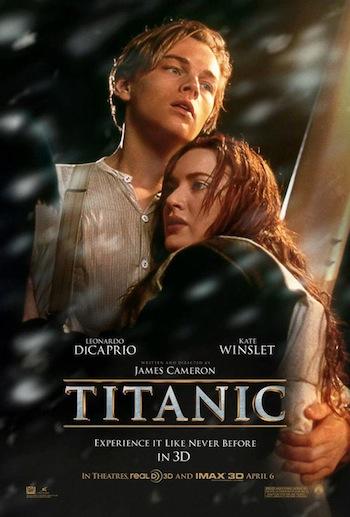 For anyone who seriously doubted that James Cameron would risk his considerable artistic reputation by crassly converting his seminal "Titanic" into 3D, here's your definitive proof.
Paramount has released the attached poster, which triumphantly heralds the remastered film's April 6, 2012 release. (Coincidentally—or not—that date will also mark the centennial of the Titanic's fateful maiden voyage.)
While the poster's debut will likely quell any lingering skepticism over the project's existence, several compelling questions remain. Will Cameron have succumbed to any George Lucas-like temptation to tamper with the film, perhaps re-rendering its CGI to improve decades-old FX shots? Will the re-release earn the requisite $160+ million it needs to recapture the title of "most successful movie ever" from Cameron's own "Avatar?" (Domestically speaking, that is. It would need to earn closer to $1 billion worldwide to take back the overall crown. Which isn't very likely.) Will Kate and Leo's fiery chemistry be just as resplendent in 3D as it was in 2D back in 1997? And how much will the conversion process improve the film's most striking sequences?
What do you think, Hitlisters? Approve/disapprove of the project? Excited by the opportunity to share the film with a younger generation? Excited just by the mere opportunity of seeing it again on the big screen where it belongs? What scenes are you looking forward to the most? (The key for us was always James Horner's splendid score, which—sadly? thankfully?—own't be affected by the conversion process at all.) As always, leave your thoughts in the comments!