FEATURED POST
Let's all pretend to care about this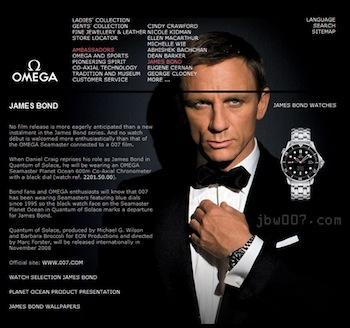 Making James Bond movies is expensive. "Quantum of Solace," the last film in the series, cost an estimated $230 million—not counting its advertising budget—or enough to put 1,437 high school seniors through four years at Harvard. It's thus somewhat understandable that the franchise's producers would look to cut costs any way they can. For example, through product placement.
The series has been notorious for its prominent use of product placement in the past, but things may reach a tipping point now that, according to
Ad Age
magazine, Bond will abandon his trademark shaken martinis for Heineken. How much did the Dutch brewery pay for the service? Only God and Sony's accountants really know, but whatever. As long as it helps director Sam Mendes, Daniel Craig, et al. to bring the explosions, we suppose we can get on board.
For those concerned about the franchise "selling out," rest assured, there are few reasons to worry. (Besides, the series actually sold out a
long
time ago. See also: the accompanying image.) The change from martinis to beer
may
even serve a narrative function. Bond always drank "shaken" martinis due to their apparently reduced alcohol content versus stirred martinis. (Bond wants to
appear
as though he's drunk, or could be drunk, while still retaining his senses.) Heineken, meanwhile, is 5% alcohol by volume, which makes it just slightly more potent that water. Or, fine, Bud Lite Lime. Either way, Bond should be free to slam a few Heinekens without losing his ability to drive—or shoot straight—during that inevitable, climactic car chase.