FEATURED POST
On the Sandler mafia, 'That's My Boy,' and leaving 'Saturday Night Live' …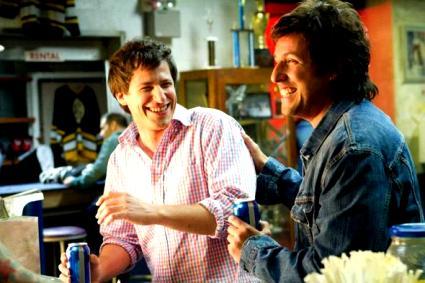 It's been a busy few weeks for Andy Samberg. The comedian and actor recently decided to leave 'Saturday Night Live,'  after 7 seasons; he's also signed on for a British sitcom, 'Cuckoo.' In August, his Sundance drama "Celeste and Jesse Forever" opens in limited release, and right now he's the co-billed star opposite Adam Sandler in the comedy 'That's My Boy," playing the estranged son the strange Sandler had when he was just a teen. We spoke with Samberg from New York by phone about "That's My Boy," working with Sandler and his rat pack of co-conspirators and about leaving SNL …

MSN Movies: How exactly did you come to this project?
Andy Samberg: I heard about the script. I heard the possibility of playing Sandler's son, if he'd a son at the young age of fifteen or so. I thought to myself, "Who better than I to play such a role?" So I called him and was like, "Please let me be in your movie," and he was like, "Maybe," and then I called him like ten more times, and he was like "Okay, fine."
It's not like there is some mythical meeting spot where all the SNL alumni hangout and give each other back-pats and jobs, right?
No, not since the Blues Bar (Dan Akyroyd and John Belushi's illegal post-show speakeasy during the show's early seasons).
You went through all the usual channels, and obviously there were auditions for other people, but they decided to go with you. The question is, what's it like joining what I can only call the Happy Madison Mafia?
(Laughs) Oh, so you're familiar.
There's like a gang of Happy Madison producers, actors, writers, all of whom get together. Is it just a big barbeque? Is it like a board meeting?
It's closer to a big old barbeque. It's a lot of fun time folks that are all friends and have been friends for a long time. From the producers that he works with and the writers that he works with, all the way down to the crew that he keeps working with, you know? He surrounds himself with real nice goodtime folks and its real fun. Everyone was real warm and inviting. It was defiantly a good environment for comedy. A lot of good jokes being pitched.
You have a script, but how much of it is "Hey, we're standing around with a bunch of professionally funny people. How can we juice this, or make it better?"