FEATURED POST
Shorts anthology goes for a second round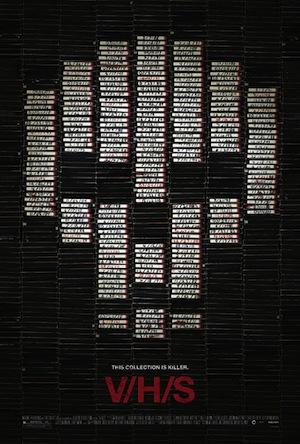 While the horror genre's love affair with "found footage" films doesn't appear to be on the decline (and, certainly, audiences are continuing to turn out for such films), there does seem to be a lack of creative juice being injected to such films. At this point, it's getting harder and harder to buy into feature-length films that are artfully crafted from all manner of footage that just so happened to be "shot" during some sort of remarkable and terrifying occurrence. So what's next for the genre? Perhaps a return to a form more popular decades ago - shorts anthologies.
Earlier this year, just such an anthology hit theaters - "V/H/S" featured a collection of shorts by directors Adam Wingard, David Bruckner, Ti West, Glenn McQuaid, Joe Swanberg, and the collective known as Radio Silence. It included five standalone horror shorts, along with one "wrap-around" story that attempted to tie them all together (though somewhat loosely). I personally had a lot of fun with the film - you can read my Sundance review of the film over at Film School Rejects, right 
HERE
. As is often the case with shorts anthologies or films that embrace multiple storylines, there's something to appeal to just about every movie-goer within the film (unless, of course, you don't much like horror films, because "V/H/S" is more often scary and gory than it is silly and fun, though it has those elements to it, as well).
Now comes word from
THR
that not only is "V/H/S" getting a sequel (we smell franchise!), but that it is coming complete with works from all sorts of exciting horror helmers. The outlet reports that the film will include works by Gareth Evans ("The Raid"), Eduardo Sanchez ("The Blair Witch Project," "Lovely Molly"), Jason Eisner ("Hobo With a Shotgun"), Timo Tjahanto ("Macabre"), Gregg Hale (Sanchez's producing partner), Adam Wingard ("You're Next"), and Simon Barrett (Wingard's writer, making his directorial debut). Sanchez and Hale will co-direct a segment, while Evans will co-direct his piece with Tjahjanto. That gives "V/H/S/2" a total of five shorts, just like its predecessor.