FEATURED POST
Will the iconic 'Star Wars' characters return in the upcoming Episode VII?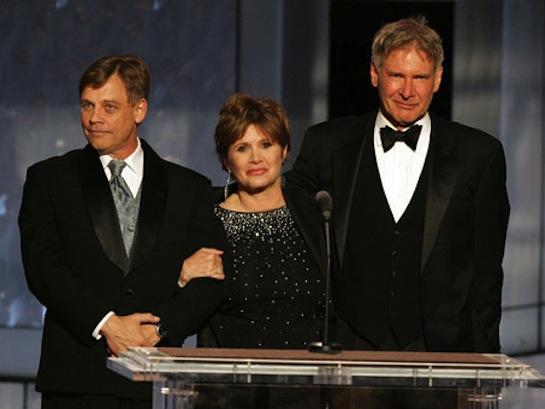 Most "Star Wars" fans have been rejoicing this week at the news of Disney's purchase of Lucasfilm for a whopping $4.05 billion. Not only does the new studio configuration, led by longtime Lucas collaborator Kathleen Kennedy, plan on continuing the series, the long-dreamed-about Episode VII is apparently already on the books. That film is scheduled for release in 2015, a date that doesn't seem THAT far away. I'd say we're just a few months away from the most diehard fans getting in line for opening weekend. That is, if we still have movie theaters in 2015. Or weekends.

I remember how sad people were when George Lucas announced, after the endless criticism he received for Episodes I through III, that it was all over—there would never be another "Star Wars" film made by him or anyone else. In discussing the sale this week, Lucas tried to set the record straight on his earlier statements. "I always said I wasn't going to do any more, and that's true, I'm not going to do any more," he remarked when asked about the upcoming films. "But that doesn't mean I'm unwilling to turn it over to Kathy to do more. I have story treatments of 7, 8, and 9 and a bunch of other movies, and obviously we have hundreds of books and comics and everything you could possibly imagine. So I sort of moved that treasure trove of stories and various things to Kathy, and I have complete confidence that she's going to take them and make great movies."
Bing: Disney/Lucasfilm | Star Wars
I will resist the strong urge to start speculating on the plots of the upcoming films even though I've practically memorized the synopses of those episodes that have been floating all over the Internet ever since there was an Internet. Do any of these synopses really represent George Lucas's original vision for the nine-part saga or the treatments he has apparently turned over to Kathleen Kennedy? We shall see. All I'll say is that most of the storylines for Episode VII are said to take place 30 years after the events of the last chronological film, "Return of the Jedi," which was released on May 25, 1983. Of the original actors in that film, Mark Hamill has stated in numerous interviews that Lucas told him back in the day that he'd have a role in Episode VII "if he was old enough" when it finally got made. Which is exciting news for fans of the original series since exactly 30 years will have passed when the next film is slated to begin shooting. Will Mark Hamill, age 61, Carrie Fisher, age 56, and Harrison Ford, age 70, agree to pick up their lightsabers and bring the aging Luke Skywalker, Princess Leia, and Han Solo back to life in the upcoming films, supported, of course, by a entirely new group of younger Jedi Knights, Sith Lords, droids, and aliens of all shapes and sizes? We can only hope.
The possibilities for the new series are endless and we'll report the details as they are revealed. Will we see an older but still sexy Lando Calrissian played by 75-year-old Billy Dee Williams? A graying Chewbacca played by 68-year-old Peter Mayhew? It goes without saying that R2-D2 and C-3PO will be in the new films, but who else from the existing Star Wars universe will make the cut? At the moment I'd say there's only one person in Hollywood who isn't jumping up and down with excitement: Jar Jar Binks' agent.