FEATURED POST
'My one scene with Emma was about 2 percent written, and then 98 percent bulls**t ...'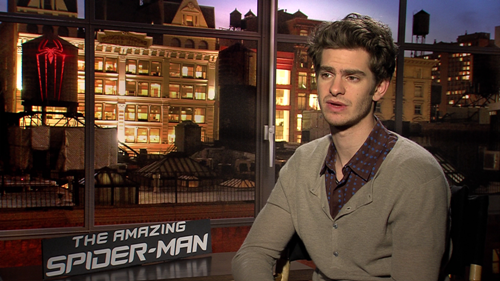 Rumpled, laid-back and gangly -- in short, every inch the awkward teen he plays in "The Amazing Spider-Man" -- Andrew Garfield laughs talking about playing Peter Parker, and seems to be taking the biggest role of his life -- after standout turns in "The Social Network," "Never Let Me Go" and "Red Riding" -- in stride. We spoke with Garfield in New York about auditioning, the legendary stunt team who made him look like a super-hero and how much he got to play fast and loose with the script. ...
MSN Movies: You were apparently a huge fan of "Spider-Man" as a kid. There's a legendary picture of you in the outfit at age 3 for Halloween ...
Andrew Garfield: Legendary ...
When word came they were thinking about starting this up again, how exactly did you wind up being Peter Parker?
I auditioned like any other actor might, and then I thought 'Well, that was a waste of time." Then they called and said, "We think you're too old, but maybe screen tests." I thought, "Okay. I think I might be a little too old as well."  I can act like a teenager, because sometimes I feel like a teenager, so I screen tested and they said, "Hey, we think you could maybe do it." I was like, "Are you sure? Okay."
This all sounds very noncommittal. I'd like to think there was a bit more excitement.
(Laughs) No, it was a very cool and exciting time.