FEATURED POST
First trailer for 'Playback' doesn't quite smack of originality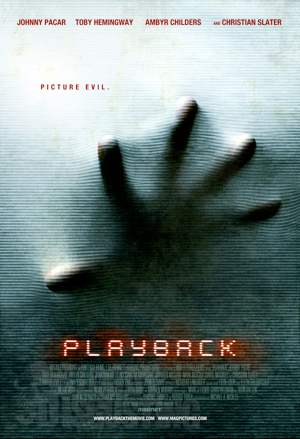 If you've ever lusted for a low-budget film that plays like a weird amalgamation of "The Ring," "Stay Alive," and every cheapie found footage flick at your local multiplex, has Christian Slater got a film for you! The former eighties heartthrob is back on the big screen (relatively speaking) with indie horror film "Playback." 
The film focuses on a small town (aren't they always?) that has a haunted past (again, don't they always?), thanks to a horrific crime that happened all the way back in - wait, all the way back in the mid-nineties? Way to dig back! Of course, the crimes would have to take place within the last couple of decades, because how else would they be caught on tape so that they could then be viewed by a bunch of random high school students? Seriously, did someone throw some darts at a board covered in modern horror film tropes to make this film? So, rewind - small town, terrible crimes, video tapes, teenagers. Yup, we've got a horror film.
The film's first trailer is laughably (and poorly) pun-laced: "once you get caught in his lens -- you're captured." What's most terrifying about webcams is that people are still using them, but I don't think "Playback" has a sense of humor when it comes to outdated technology. But the trailer does also hint at what could be some interesting ideas - possession by way of technology, and perhaps a crime legacy that goes back further than a time when Chumbawamba ruled the airwaves. The film also stars newbies Johnny Pacar, Ambyr Childers, Toby Hemingway, and Alessandra Torresani. It's possible one (or more!) of them will elevate what looks like pretty sub-standard material. Slater? I'm not talking to you. 
"Playback" will debut on iTunes on February 3 (yes, a platform I just mocked, but one that can be frighteningly good at getting low-budget fare in front of eyeballs), with a theatrical release on March 9. Check out the film's first trailer, over at
Apple
.