FEATURED POST
'When you're doing it, you just think "This is really bizarre, man."'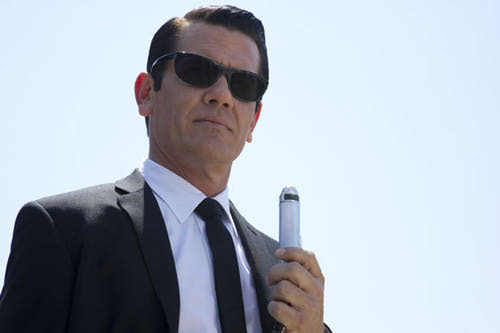 As a new-addition shot-in-the-arm for the third film in the "Men in Black" series  -- playing, thanks to a time-travel plot, the younger version of Tommy Lee Jones' truculent Agent K -- Josh Brolin gets a change to cut loose co medically like he hasn't had in a while. In the midst of a career resurgence that began with "No Country for Old Men," Brolin's on-screen silence and stone face is exchanged, when talking about the film, for a laid-back drawl and easy laugh, We spoke with Brolin in L.A. about imitating your co-worker, working in 3D and his what am I doing here moments while making the mega-millions sci-fi comedy.
MSN Movies: Is this the best paycheck you've ever gotten per word, because you got to do the whole Tommy Lee Jones "Yep." "Nope." thing?
Josh Brolin: Per word, so therefore there wasn't a lot of dialogue and I got paid nicely per world? That's interesting. I've never thought about that. It was a decent paycheck, but it was more the part. The part was fun and kind of freaky, and (I had) abject fear getting into it and wanting to please these guys, and not wanting to screw up the whole series. Yeah, I think I earned my pay is what I'm trying to say, even though there were few words.
You worked with Mr. Jones on "No Country for Old Men." Is that when you started watching him a little bit? How much did you pick up from his films?