FEATURED POST
Um... It's possible.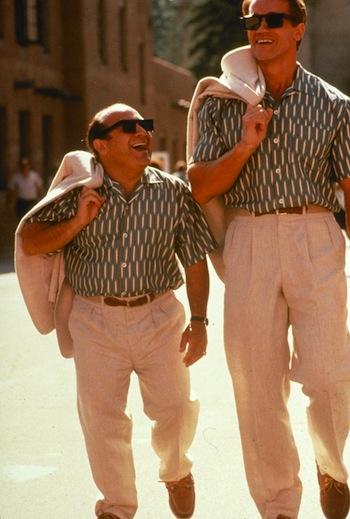 Of all the Arnold Schwarzenegger classics, the one we'd most like to see a sequel to is "Junior." If only because Emma Thompson is adorable, and we'd like to know how Arnold's kid is doing. No, just kidding. The one we'd really like to see a sequel to is "Kindergarten Cop." Because, please. Best movie ever.
Universal pictures apparently has other plans, however. (Don't they always?) The studio is apparently keen to make a sequel to "Twins," reuniting stars Schwarzenegger and Danny DeVito. The catch? This time, the
genetically-engineer​ed
brothers would discover they have a
triplet:
Eddie Murphy.
Those who remember the ostensible premise for "Twins"—Arnold got all the good DNA, DeVito the... well, not-so-good—may wonder how Murphy's character would fit in to the established mythology. To which we can only say, "Who cares?" Really, who cares. It's just a movie. Although, Eddie Murphy does have a rather different comedic sensibility than Ah-nuld or DeVito. So, while we have no idea how the filmmakers would explain his character's existence, narratively, we also have no idea how Murphy's character would fit in, tonally.
Did that make sense? Maybe not. But neither does the fact that they're making a sequel to "Twins." What do you think, Hitlisters? Could this film signal Arnold
Schwarzenegger's/Edd​ie
Murphy's triumphant comeback? Or is it just a pipe dream, and a generally bad idea? As always, let us know in the comments...