FEATURED POST
'No matter what she does, she will always be "The Girl" ...'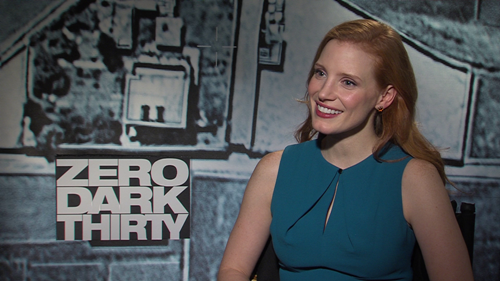 In a robin's-egg blue shirt that compliments her eyes, Jessica Chastain is far removed from the camo-clad CIA analyst she plays in "Zero Dark Thirty." One of a series of exceptional performances in exceptional films, Ms. Chastain's performance as Maya is the heart of the film -- and also being touted as a frontrunner for the Best Actress Oscar. We spoke with Chastain in New York about intelligence work, the films' subtext about her character and more.

MSN Movies:  The one thing I'm asking everyone, Miss Bigelow and Mr. Clarke, is this. This isn't a whodunnit; we know who done it. We know what happened. But to me it's a howdunnit, all of the stuff that went into this historical event. What was the one thing you learned from reading the script and making this film that you didn't know about the facts around the hunt for and the death of Osama bin Laden?
Jessica Chastain: Yeah, well, one of the major things is the character of Maya. I didn't know that there was a young girl who basically was at the lead of the hunt for Osama bin Laden. She found a piece of information, and she stayed on it for close to a decade even when her superior said, "No, no, no. You're wasting your time. Focus on something else." She really believed it. She gave herself up for her job. She became a servant to her work. And she found him. She found a compound and she followed it to the very end.
There's this interesting thing that's happening where in the film when you're all standing over the body and the one military person says, "Yes, it's Osama. The girl confirms it."
So glad you picked up on that.
BING: Jessica Chastain l 'Zero Dark Thirty' 
And Mr. Clarke referred to your character as "the girl," and you even just referred to her as "a young girl." I mean this is a woman. Is it nice to have a film that's a little bit about gender dynamics where it's not full of five-minute speeches and complaining about the glass ceiling in the CIA?
Yes. Exactly. It's really interesting you say that though because even at the end of everything she's done, at the end she's not referred to as, "Maya confirmed it." She's still "the girl." No matter what she does, she will always be "the girl." And I find that is very interesting you picked up on that. I think only Kathryn Bigelow could make this movie because working with Kathryn Bigelow you're not on the set thinking, "Oh, she's a woman."