FEATURED POST
Film is based on Eric Danville's bio 'The Complete Linda Lovelace'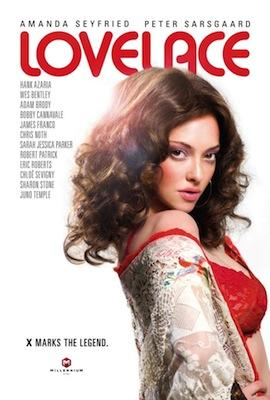 For awhile there, it looked like cinephiles and history buffs alike would be gifted with two different films that focused on the life of
porn-star-turned-fem​inist-crusader
Linda Lovelace, but as is often the case in these situations, one feature has come out so far ahead that it appears the other may never get made.
Emerging likely victorious is Rob Epstein and Jeffrey Friedman's "Lovelace." Whereas the other Lovelace project, "Inferno," has yet to even get made (that's the one that would have starred Malin Akerman), the "Howl" filmmakers already have a completed film to sell at this year's Cannes Film Festival.
This one stars Amanda Seyfried as Lovelace, with a compelling supporting cast that includes Peter Sarsgaard, Sharon Stone, Juno Temple, Wes Bentley, Hank Azaria, Bobby Cannavale, Chris Noth, Robert Patrick, James Franco, Eric Roberts, Adam Brody, Chloe Sevigny, and Sarah Jessica Parker. The film is specifically based on Eric Danville's biography "The Complete Linda Lovelace," and it "follows Linda Boreman's rise to fame as iconic porn star Linda Lovelace of 1972's 'Deep Throat,' and her subsequent transformation into feminist, anti-porn activist Linda Marchiano." Lovelace's story is specifically "told through the perspective of three interviewers at various stages of her life." The role will likely be a transformative one for Seyfried, and the film's first poster (released this week) shows just how much she's been able to disappear into the role. 
"Lovelace" does not currently have a release date, but this poster is marked as a piece of sales art for the upcoming Cannes Film Festival, will the film will likely sell to a distributor who will release it soon enough. Check out a larger version of the poster (thanks to
Latino Review
and
ComingSoon
) after the break.