FEATURED POST
Will adapt Walter Isaacson's acclaimed biography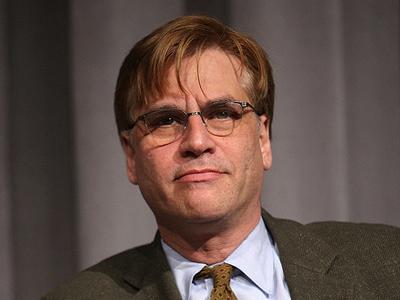 Sometimes it seems that every time Hollywood has a great (or not-so-great) idea, it somehow has it twice. Witness the eerily close releases of "Dante's Peak" and "Volcano." "Deep Impact" and "Armageddon." "A Bug's Life" and "Antz." "Mirror Mirror" and "Snow White and the Huntsman." You get the point.
Now, of course, we have two competing biopics of Steve Jobs. One, being produced by Sony, will be based upon Walter Isaacson's official biography, and will presumably distinguish itself by being prestigious and classy. The other, "Jobs," stars Ashton Kutcher as the young Apple co-founder, and will presumably distinguish itself by, well, probably by coming out first. And for starring Ashton Kutcher. Which is definitely worth something, right?
That said, Sony's project currently enjoys an enviable, perhaps insurmountable lead in terms of its inherent respectability. A lead that just grew bigger with today's announcement that none other than Aaron Sorkin has been enlisted to write the script. Sorkin has made a cottage industry out of high-profile book adaptations of late ("Moneyball," "The Social Network"), so we can only expect a top notch effort from him. It seems the only questions that remain are a) Who will direct? b) Who will play Mr. Jobs? and c) How many Oscars will this film eventually win?
What do you think, Hitlisters? Which Steve Jobs biopic will you see, if any? Who should Sony hire to play the enigmatic computing
pioneer/inventor/CEO​?
(And before you suggest it, no, Ashton Kutcher is not available.) Who should direct? Bennet Miller? David Fincher? James Magnold? Or perhaps someone more far afield, like J.J. Abrams? Or the Wachowski Siblings? As always, leave your best (and most absurd) suggestions in the comments...