FEATURED POST
Ruggedly attractive star looks to transcend his 'Twilight' legacy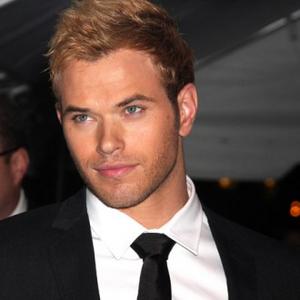 Now that the "Twilight Saga" is officially over—and how! "Breaking Dawn, Part 2" is the funniest movie we've seen since "Bridesmaids!"—the world is waiting in rapturous anticipation of what its stars will decide to do next. Will Kristen Stewart return to the "Snow White" franchise? Well, no, probably not, considering the rather public scandal the first film caused. Will Robert Pattinson return to the "Harry Potter" franchise with a spin-off about Cedric Diggory and the other mediocre talents of Hufflepuff House? Um, yes, please? Will Kellan Lutz make a comic book movie where he kills people with his rugged good looks and razor sharp chin? Ehh.... Not quite.
According to
Deadline
, the dashingly handsome, impossibly muscled Lutz is in talks to star in the indie "Tatua," about a mystical assassin who can draw conceal weapons out of the tattoos covering his entire body. Nifty. Also, why didn't Stephanie Meyer think of that? Emmet didn't have any supernatural powers to speak of...
What do you think, Hitlisters? Excited to see Lutz in something not as patently ridiculous as "Twilight," like a, um, comic book flick about a dude with weaponized tattoos? Will Lutz ultimately enjoy a long, profitable post-"Twilight" career? And whom else from the Cullen gang would you like to see take center stage? And in what? As always, let us know in the comments.