FEATURED POST
Also, Allison Janney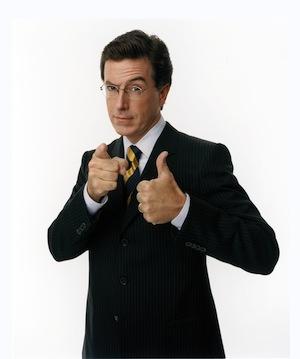 Great news, everybody! Stephen Colbert ("The Colbert Show") and Ellie Kempler ("The Office," "Bridesmaids") have reportedly joined the ever-growing voice cast of DreamWorks's "Mr. Peabody & Sherman," an animated film based on an apparently famous cartoon series that we have admittedly never heard of.
"Mr. Peabody & Sherman" evidently tells the story of Mr. Peabody—the world's smartest person, who, coincidentally, just happens to be a dog—and his "pet" boy Sherman as they engage in time traveling hijinks and save the world. As per
The Hollywood Reporter
, the film is based upon the "classic" Jay Ward cartoon. "Modern Family's" Ty Burrell has already signed on to voice Mr. Peabody, while newcomer Max Charles—who will play a young Peter Parker in the upcoming "The Amazing Spider-Man"—will voice Sherman. No word as yet as to what characters Colbert or Kempler will voice, though we're sure they'll just be doing mild variations of their already-established public personae.
Oh, and Allison Janney ("The West Wing") has also joined the cast. Janney is a well-known character actor with memorable turns on TV and in such films as "Juno," and her voice is as mellifluous as she is versatile as an actress. We wish there were a way to subtly make fun of her casting, but there isn't. Not really. Whereas Colbert and Kempler could and may be distracting, we're sure Janney will acquit herself with grace and consummate professionalism.