FEATURED POST
Videodrone's take on the biggest, best, coolest and culty-ist releases of the week
By 
SeanAx
 Jul 13, 2012 10:28AM

New Releases:
"Margaret" (Fox), the much delayed and debated second feature from director / screenwriter / playwright Kenneth Lonergan, arrives on Blu-ray with the 150-minute theatrical cut plus a bonus DVD featuring what they are calling the "Extended Cut" that runs a full half-hour longer, the version that Lonergan originally fought to get released. It's an astounding film and this will be the first opportunity for many people to see it in any form. Also available On Demand. Videodrone's review is here.
"American Reunion" (Universal) is indeed a comic reunion of the friends and lovers of the original "American Pie" cast, bringing back every major (and a few minor) characters to compare notes over a decade later. Blu-ray, DVD, and On Demand, and all of them offer your choice of the original R or the unrated edition (which is barely a minute longer). Reviewed on Videodrone here.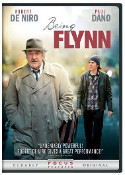 "Being Flynn" (Universal), an adaptation of the Nick Flynn memoir "Another Bull***t Night in Suck City" starring Robert De Niro and Paul Dano, arrives on Blu-ray, DVD, and On Demand. Christian Bale stars in "The Flowers of War" (Lionsgate), Zhang Yimou's Chinese epic about the fall of Nanjing. Blu-ray, DVD, On Demand and at Redbox.
"Making Plans for Lena" (Zeitgeist), a French drama from director Christophe Honore and actress Chiara Mastroianni, also make the list of the foreign films this week, and "Comic-Con: Episode IV: A Fan's Hope" (Wreckin' Hill), Morgan Spurlock's portrait of the San Diego Comic-Con and the characters that define it, top-lines the documentary selection. Both DVD only.
Browse the complete New Release Rack here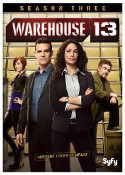 TV on Disc:
"Warehouse 13: Season Three" (Universal), the most popular show on SyFy, continues its play of fantastic situations, colorful character chemistry, oddball history, and comic attitude within a whole new conspiracy designed to bring about the Warehouspocalypse. It's still the goofy details and chemistry that makes the show work. 12 episodes plus the Christmas special on three discs, DVD only. Videodrone's review is here.
"The Glades: Season Two" (Fox) heads back to the Everglades for 13 more episodes of the cable crime show starring Matt Passmore as a Chicago cop in Florida competing to be the most aggressively irritating detective on TV. So far he's winning. DVD only.