FEATURED POST
'I see it all the time in this business: Choices are being made that aren't helping ...'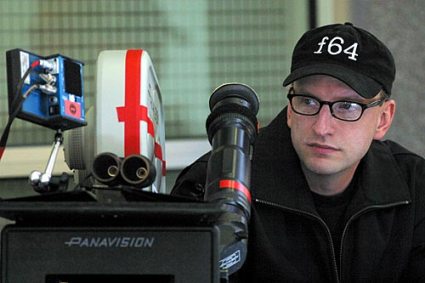 Part one of our interview with "Magic Mike" director Steven Soderbergh wandered far and wide with the director's interests and observations, from TV vs. movies to strip club decor. In the second part of our three-part interview, the director talks about how shooting digital can open up performances, the freedom of new technologies and making sure your strip-club choreography is just the right kind of wrong.
MSN Movies: When Mr. Tatum is introducing Mr. Pettyfer to the work environment in the club, there's this background little thing overheard about the philosophy of body lotion between Mr. Bomer and Mr. Rodriguez ...
Steven Soderbergh: (Laughing) If you can, watch the movie and dial into them, and Bomer going like, "You know, your skin is your biggest organ."
Is a lot of that a function of shooting video digitally and the two cameras you have set up?
Certainly. I wish I'd had this technology fifteen years ago. The sensitivity of it allows you to shoot with available light almost all the time, which gives you more freedom in terms of composition. In an available light situation, it's easier to find multiple angles that will work than it is in a situation where you're having to control the light and there's typically only one or two or there's one angle and then a bigger size of that angle. If we're in a situation like this and we're shooting available light, everything kind of looks good, because it's natural. I love that. Then, of course an hour and a half after we wrap, I've got the footage, I can cut that night, I can re-shoot the next day if I see something that I don't like. The ability to recalibrate as you're shooting is great. All of this technology for me has really been a benefit for the way I like to work.
I noticed the back seat shame-cam shots when Ms. Horn is taking Mr. Pettyfer home and he's just passed out in the back, and you've got a camera wedged in between the seats. You probably couldn't have done that with film.
It would've been really hard. There's a shot actually in "Bitter Pill" where we have a character who's stepping on a gas pedal. With the new Epic camera I took everything off the camera but the lens and I was able to put it behind the gas pedal. (Indicating the small space between the pedal and the bulkhead of the car behind it as a foot goes down.) With a film camera I would've had to have a car built that would allow me to get a lens there. That kind of simple stuff is really great.
Mr. Pettyfer has a great line early on of "I gave the college thing a college try." A lot of your films are kind of about plan B. Is that something you're interested in? What happens when plans go awry. or life doesn't work out the way people think it will?