FEATURED POST
The young actor relished the chance to work so closely with Robert De Niro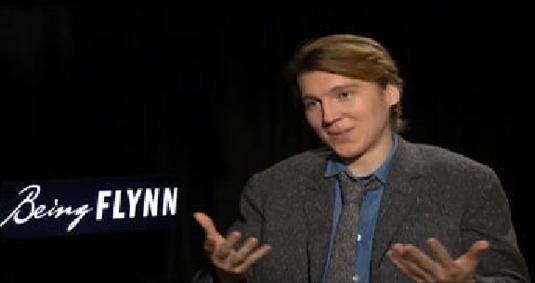 Whenever he's on the screen, Paul Dano makes an indelible impression. At 15, Dano starred in the provocative indie drama, "L.I.E." His breakout performance was as the mute brother Dwayne in "Little Miss Sunshine" and he went on to captivate audiences as twins Eli and Paul Sunday in "There Will Be Blood" opposite Daniel Day-Lewis.

Now 27, he more than holds his own with an explosive Robert De Niro in Paul Weitz's new film, "Being Flynn," based on Nick Flynn's memoir, "Another Bullshit Night in Suck City." When I talked to Dano, he had just finished making a romantic comedy written by his girlfriend, Zoe Kazan (granddaughter of the famous director). The two star in the film which is directed by the pair responsible for "Little Miss Sunshine" and also features Annette Bening and Antonio Banderas.
Dano loved the experience of playing Nick Flynn. The movie is the kind of emotional drama that stays with you long after you leave the theater. I asked the earnest actor why he felt so drawn to the story.
Paul Dano: It is such a moving piece of writing. I was very attracted to the psychology of Nick and all he had to deal with losing his mother and then meeting his father in a homeless shelter. All of his fears about who he was becoming were right there in his father, he was definitely heading in that direction. For him to look that right in the eye and overcome it, that was a pretty amazing journey. As an actor, God, it was so exciting and challenging to delve into this material. I was also attracted to the script because of how it focuses on the world of the homeless—that's not something that's often depicted in films, at least not very well.
MSN Movies: Had you already read Nick Flynn's memoir when you got the part?
No. First I read the script and talked to Paul Weitz. He wanted me to do it which I was thrilled about. The day I got the part, I went to my local bookstore in Brooklyn to buy the book. They had a copy waiting for me at the counter and when I opened it, there was a note in it from Nick to me! I thought, how the hell did he know I was going to come here to buy the book? It turned out he lives about three blocks from me in Brooklyn! I didn't know that, but he did and he just guessed that I'd come buy the book at that store so he beat me there.
Did you feel more of a responsibility to "get it right" because you were playing a real person?
You know, even when you're playing someone real, you have to figure out what is going to be best for the character. It's weird—you have the real Nick Flynn, you have the memoir, and then you have the script that Paul Weitz adapted from the memoir. So there's a piece of Paul Weitz in there as well, it's not pure Nick Flynn. And then there's me becoming this guy in the script and bringing myself into it, too. You just have to take what you can from all these resources.