FEATURED POST
Three mega-sets debut to celebrate the studio's 90th anniversary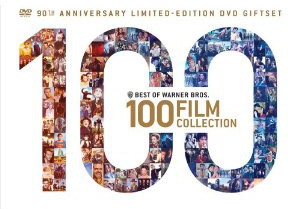 "Best of Warner Bros. 100 Film Collection" (Warner) - DVD
"Best of Warner Bros. 50 Film Collection" (Warner) - Blu-ray
"Best of Warner Bros. Best Pictures 20 Film Collection" (Warner) – DVD
In celebration of its 90th anniversary, Warner Bros. weighs in with the biggest studio box sets ever released: "Best of Warner Bros. 100 Film Collection" weighs in with 100 films and two new documentaries on 55 discs on DVD, including 22 Best Picture Oscar winners, and "Best of Warner Bros. 50 Film Collection" presents 50 films and the two new documentaries on 51 Blu-ray discs and one DVD (for the documentaries).
These are hefty items, both of them set at retail price of $597.92 (less any discount offered by retailers), and reviews copies are understandably limited. I chose to examine the Blu-ray release for this review. Blu-ray is my preferred format and Warner Home Video has one of the most impressive track records for high-quality Blu-ray releases.
"Best of Warner Bros. 50 Film Collection," the biggest Blu-ray box set to date, presents the discs in chronological order in two volumes, a pair of heft book-like cases with heavy paperboard slipsleeves for each disc, housed in a handsome box with a magnetic flap. Due to its wraparound design, the flap folds down to the bottom of the box, which means you have to pick it up or tip it back to open up the cover. It's a minor design flaw and a negligible one if you pull the volumes out of the box and file them on the shelves. The design of the cases make that an easy and attractive option.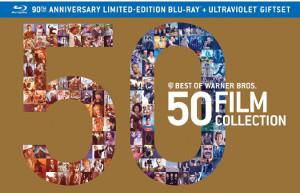 To be clear, these are not all Warner Bros. productions, but films from the Warner Bros. library, which includes the golden age of MGM and RKO films as well. Thus, along with genuine Warner Bros. studio landmarks like "The Maltese Falcon" (1941), "Casablanca" (1942), "The Exorcist" (1973), "Goodfellas" (1990), and "Unforgiven" (1992) are some of the great MGM movies from the golden age of Hollywood: "Grand Hotel" (1932), the star-studded Best Film Oscar-winner and the earliest film in the set, "The Wizard of Oz" (1939), "Gone With the Wind" (1939), "Singin' In the Rain" (1952), "Ben-Hur" (1959) spread across two discs, and "2001: A Space Odyssey" (1968) among them.
The selections of classics offer a fine cross-section of landmarks and favorites but the emphasis is on timeless stories and storytelling over the momentary. Thus "The Jazz Singer," a landmark talkie more interesting for its legacy than its sophistication, is not to be found here, passed over in favor of films that invite repeat viewings and passionate followings. Good editorial policy; I'd much rather watch "Grand Hotel" and "Treasure of the Sierra Madre" and "North By Northwest" again.
Continue reading at Videodrone
For more releases, see Hot Tips and Top Picks: DVDs, Blu-rays and streaming video for the week of January 29