FEATURED POST
Grindhouse sequel still has no reason for existing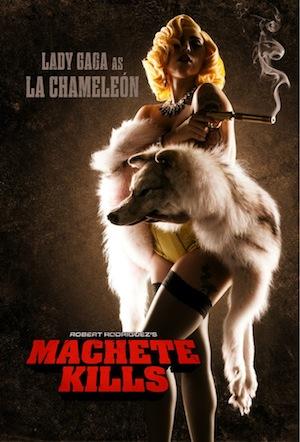 Robert Rodriguez's "Grindhouse" spin-off "Machete" made all of $26 million at the box office back in those halcyon, pre-everything, blissfully uncomplicated days of 2010. Considering the flick only had a production budget of $10 million, however, even said meager gross qualified it as a minor success. Ergo, as per that pernicious, unwritten but widely accepted Hollywood rule that every mildly profitable film needs—nay, absolutely
demands—
an utterly useless sequel, Rodriguez has since moved forward with one, "Machete Kills."
Rodriguez has sought to differentiate this subsequent effort by scouring the fringes of Hollywood, recruiting the likes of Charlie Sheen and Mel Gibson for prominent roles. Now comes word that
he has secured the acting talent
s of none other than Lady Gaga for the role of "La Chameleón," an enigmatic,
purposefully-undefin​ed
role that apparently will involve the erstwhile pop star wrapping herself in wolfskin and shooting people. Seems somehow appropriate.
What do you think, Hitlisters? Perturbed that this "Machete" sequel exists at all? Excited for Ms. Gaga's onscreen debut? Somehow hopeful that the film will involve her shooting villain Gibson straight in the, er, nether regions? As always, let us know in the comments.