FEATURED POST
Mark your calendars!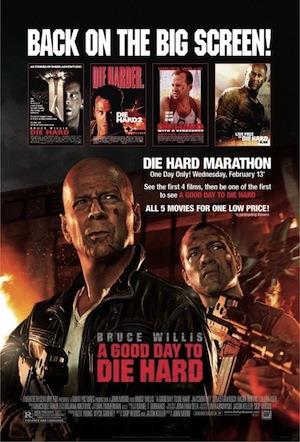 Speaking of
special theatrical events
, fans of the Bruce Willis-starring "Die Hard" franchise now have a new date to look forward to. Nope, it's not February 14, when the fifth "Die Hard" film, "A Good Day to Die Hard," will open, but the day before, when Fathom Events is bringing a special marathon event of the previous four films to a theater (presumably) near you!
The event will take place on Wednesday, February 13, and will include screenings of 1988′s "Die Hard," 1990′s "Die Hard 2," 1995′s "Die Hard With a Vengeance," and 2007′s "Live Free or Die Hard." When the marathon wraps up around midnight, moviegoers will be among the first fans to see "A Good Day to Die Hard." You guys weren't busy on that day already, were you? 

Theater information has not yet been released for the event, but as
/Film
notes, similar events ("The Twilight Saga" has long marathoned its films before a new release, and are among the most popular) have been held at major chains Regal and AMC.
"A Good Day to Die Hard" opens on February 14th. Happy Valentine's Day!