FEATURED POST
On NC-17 scenes, fame, 'The Exorcist,' grooming tips, 'Face/Off,' life in the corner of the public's eye and pretty much everything.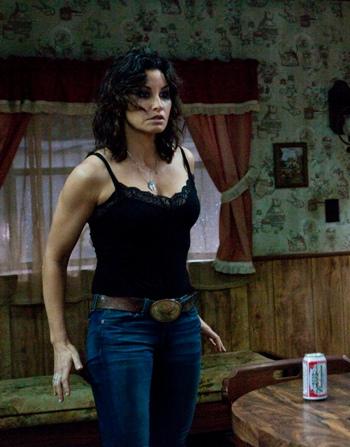 In William Friedkin's trailer-park noir "Killer Joe," we first see Gina Gershon's character Sharla opening the door of her double-wide in the rain late at night, howling at her stepson Emile Hirsch ... naked, and visible only, from the waist down. It is the least of the indignities her character suffers in the film, including the NC-17 film's creepy-clammy final interrogation scene, as conducted by cop/killer Matthew McConaughey. But in the real world, Gina Gershon -- who's turned into a stealth hyphenate in different disciplines over the recent years, recording with a band and writing children's books -- is simply excited about having worked with William Friedkin, the man behind one of her most-loved films. Gershon's been in films from the camp classic to the two-fisted, with a sophisticated air that can command a room with one raised brow and, at the same time, an earthy physicality that helps her hurl herself into goofy physical comedy. She has worked with directors from John Hughes to John Woo, Robert Altman and Olivier Assayas. She is, speaking about her film in L.A. with us, an absolute force of nature. At one point, discussing authenticity, she conducted me, delicately, through the longest conversation about the intimacies, culture and class structure of feminine grooming that I have ever had in my life. I tried to merge the digression, but she made her point, laughing. If there is one great secret to her long and diverse career, it was demonstrated that day: It is very easy to laugh along with Gina Gershon. 
MSN Movies: When you're doing a 28-day shoot, how much like live theater does it feel -- just in that you're going from scene to scene relatively swiftly?
Gina Gershon: I mean, everything wasn't in sequence except for the end. It felt, I mean, it never felt like live theater because you don't have the audience right there, but I have to say doing long scenes is not typical in a film. So that part was really great. This felt more like live theater than another movie. I mean like theater just because we get to play the scenes for so long, and it's really like in one location. We have to stage it.
All the blocking.
All the blocking, yeah, had to be kind of thought out before certain scenes because of course you have the camera here, and so if you're going to do a 5 or 6 page scene, or even a 15-page scene, you (hand gestures)  know. So sometimes in movies you can kind of move around in a different sort of way and you had to remember the choreography in your head and then forget about it.
But do you feel the momentum build?
Yes, absolutely. I mean, the longer the scene goes, especially with these scenes, especially the interrogation scene, I don't think it would've worked as well if we had to keep saying, "Cut, cut, cut" 'cause it just kept going and the feeling that it wasn't ending and it allows you emotionally to just be very organic with where you're going and feeling kind of like a trapped rat, and honestly if there was a cut you'd be like (Sigh) "You're off the hook."
Right.
There was no getting off the hook.