FEATURED POST
Yes, that's also actor Sean Penn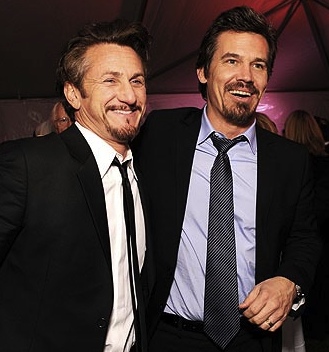 Sean Penn is such an explosive presence in his acting endeavors that it's often easy to forget that Penn has also directed films like "Into the Wild" and "The Crossing Guard." Penn looks to be going back into the directing wild with "Crazy for the Storm" which, like his "Into the Wild," is based on a true story of survival against nearly insurmountable odds.
The film centers on Norman Ollestad, an 11-year-old boy left to fend for himself after a horrific plane crash kills everyone else on board and strands him in the San Gabriel Mountains. But Ollestad, though young, had something on his side - his father was a former F.B.I. agent whose intense raising of young Norman readied him to survive the impossible. 
Will Fetters ("The Loved One") will pen the screenplay from Ollestad's memoirs, and Penn has reportedly (via  Variety) offered the crucial father role to Josh Brolin, who he has worked alongside in "Milk" and "Gangster Squad." Brolin has not yet accepted the role, but it seems like a lock, considering his relationship with Penn and the fantastic material he will have to work with. 
ComingSoon
 passes along the book's official synopsis from 
HarperCollins
, which gives us a dazzling look inside the unbelievable true story, telling us:
From the age of three, Norman Ollestad was thrust into the world of surfing and competitive downhill skiing by the intense, charismatic father he both idolized and resented. While his friends were riding bikes, playing ball, and going to birthday parties, young Norman was whisked away in pursuit of wild and demanding adventures. Yet it were these exhilarating tests of skill that prepared "Boy Wonder," as his father called him, to become a fearless champion—and ultimately saved his life.
Flying to a ski championship ceremony in February 1979, the chartered Cessna carrying Norman, his father, his father's girlfriend, and the pilot crashed into the San Gabriel Mountains and was suspended at 8,200 feet, engulfed in a blizzard. "Dad and I were a team, and he was Superman," Ollestad writes. But now Norman's father was dead, and the devastated eleven-year-old had to descend the treacherous, icy mountain alone.
Set amid the spontaneous, uninhibited surf culture of Malibu and Mexico in the late 1970s, this riveting memoir, written in crisp Hemingwayesque prose, recalls Ollestad's childhood and the magnetic man whose determination and love infuriated and inspired him—and also taught him to overcome the indomitable. As it illuminates the complicated bond between an extraordinary father and his son, Ollestad's powerful and unforgettable true story offers remarkable insight for us all.
With such a powerful story and such talents behind (and potentially in front of) the camera, that leaves some mighty big shoes to fill for the young man who will play the younger Ollestad. Any ideas? 
Filming on the project is expected to begin early next year.