FEATURED POST
'Listen, I knew what I was getting myself into...'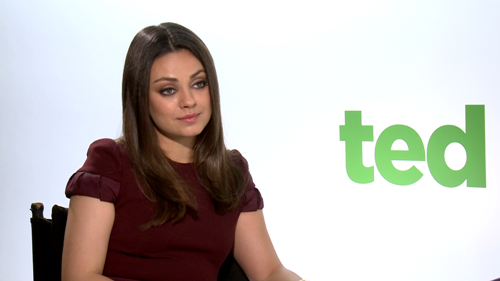 It is rare to find that starlet whose dark eyes and Mona Lisa smile hide impeccable timing and amazing comedy skills; Mila Kunis, though, is that actor. After years on "That '70s Show," Kunis seems to have found her feet with the one-two punch of her work in "Black Swan" and this week's "Ted," playing the long-time, long-suffering girlfriend of Mark Wahlberg's John, whose best friend is a magical, talking reprobate stuffed bear. We spoke with Kunis in L.A. about working with Wahlberg and MacFarlane, the bear who wasn't there and her own stuffed friendships ...
MSN Movies: You've been working with Mr. MacFarlane for twelve years on "Family Guy." What was it like watching someone you've known and worked with for so long take this big step and execute it so well?
Mila Kunis: I couldn't be any prouder of him. I think he's so brilliant and is cabable of doing so much more than people ever knew he was, and "Ted" is just the beginning of Seth MacFarlane in feature film.
What's really funny is that your character is in this sort of love triangle; the third point of it is a stuffed bear. When you read the script were you just thinking, "This is pretty much exactly what I hoped for?"

Yes. Listen, I knew what I was getting myself into. It's not like I thought, "I didn't know there's a talking teddy bear in this movie." I knew what it was doing. I thought that was great.
When you found out that you were working with Mr. Wahlberg again; "Max Payne," your previous collaboration, not a comedy.
(Kunis laughs)
Not intentionally. Was it good to work with him on something so purely comedic and so much fun?
Yeah. Him and I worked on "Date Night" together -- not together-together, but we were on the same project together -- and yeah I love working with Mark. I'd work with him again.