FEATURED POST
Kermit will have a criminal doppelganger!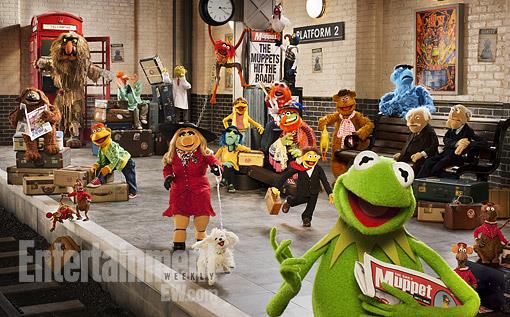 While we've been getting news about the upcoming sequel to "The Muppets" for months now, the film has kept its official logline
and
its official title secret - until now! 
EW
 reveals that the film will be called "The Muppets...Again!" (which is...cool, or something) and that it will send the felted ones on an (expected) European adventure. Mayhem! The magazine also provides the first official still from the film, which features the gang goofing it up on a Underground platform. So Euro!
The sequel promises to take "the entire Muppets gang on a global tour, selling out grand theaters in some of Europe's most exciting destinations, including Berlin, Madrid and London. But mayhem follows the Muppets overseas, as they find themselves unwittingly entangled in an international crime caper headed by Constantine—the World's Number One Criminal and a dead ringer for Kermit—and his dastardly sidekick Dominic, aka Number Two, portrayed by Ricky Gervais." Ty Burrell and Tina Fey will also co-star, and the film will also feature a number of celebrity cameos, as is the Muppets' wont.
Said Kermit the Frog, "This movie takes us places we've never been before. And trust me—this frog has never seen so much international flavor. I think audiences will eat it up—the entertainment, that is." Oh, Kermie.