FEATURED POST
How about one that features public executions in the lobby?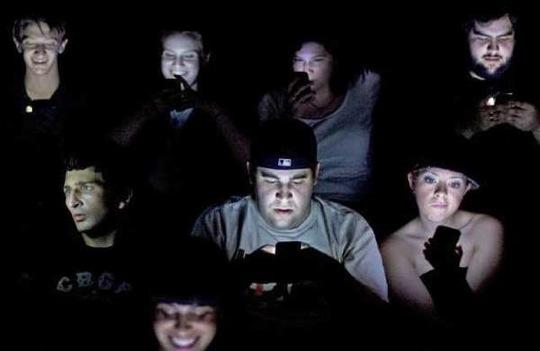 Desperate to attract young moviegoers, several theater chains have been toying with idea of having certain theaters or certain showings of films in which patrons would be allowed to text during the film. As someone who much prefers going to a movie theater over staying home and watching DVDs, Blu-rays, or online movie sites, I just have one thing to say about that plan: NOOOOOOOOOOOOOOOOOO!​ No matter what you want to call it, short of having a running conversation at full volume, texting is one of the most distracting practices possible in a movie theater. I don't care if someone's phone is eight rows in front of me and all the way to the side, when you see a light emanating from a small screen, it's just about impossible to keep your eyes from going there. And how on earth can someone who is constantly looking down at their phone possibly be concentrating on the film in any meaningful way? I'd like to find a single director, actor, or anyone involved in the film industry who supports this asinine plan by some theater owners.
Yesterday, Anne Thompson of IndieWire reported on a recent panel she moderated at CinemaCon in Las Vegas with Sony vice-chairman Jeff Blake, Regal Entertainment CEO Amy Miles, IMAX president Greg Foster, and Alama Drafthouse chief Tim League. It's an interesting read—the panel made a bunch of pronouncements such as how 3D is here to stay (boo!), how alternative digital programming can be used to fill the mid-week hole in theaters (yay!), how demand for IMAX is growing by leaps and bounds (love the technology, not crazy about watching full-length feature films in that format), and how 35mm projection will soon be a thing of the past (sob!). Then the fireworks began. Regal's Amy Miles said that in order to court that desired young demographic, the chain was seriously considering offering people the option of texting in certain theaters. Panelists (and the twittersphere) went nuts. "Over my dead body will I be introducing texting into movie theaters," sneered Tim League of Alamo Drafthouse. "That's a scourge of our industry. It's our job to understand that this is a sacred place!" I couldn't agree more, and I applauded Alama Drafthouse's decision to kick texting moviegoers who refuse to stop out of their theaters.
People who think they NEED to text during a film are not only rude, they're clearly addicts. If chains start allowing texting, why stop there? How about taping crack pipes under each seat or installing slot machines at the end of every aisle?
What do you think, folks? Is there ANYONE out there who is actually excited at the prospect of a theater that allows texting? After the break, check out Alamo Drafthouse's brilliant PSA that incorporates an actual voicemail the company received from a disgruntled patron who wanted to text during the show. (Warning: the video includes very salty language.)