FEATURED POST
"Working with Adrien Brody was like going to Julliard…"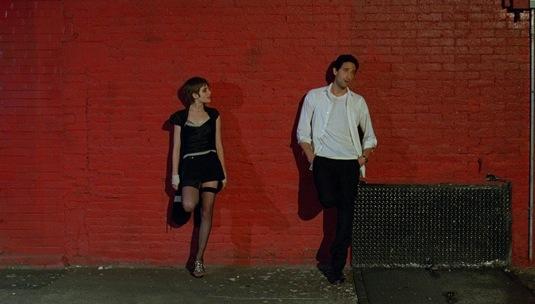 The last time I saw actress Sami Gayle was as Baby June in the stellar Broadway revival of "Gypsy" starring Patti LuPone. Gayle was mesmerizing as the young vaudeville star forced by her mother to endlessly warble "Let Me Entertain You!" to seedy audiences. In "Detachment," the new film by Tony Kaye ("American History X"), Gayle plays Erica, a damaged 14-year-old who is offering men a different kind of entertainment. Out on the streets one night, Erica meets up with substitute teacher Henry Barthe, played by Adrien Brody, and the two injured souls strike up an unlikely friendship that changes both of their lives.

Sami, who is currently featured on the CBS series "Blue Bloods," feels immensely grateful for the opportunity to play such a complex role in "Detachment," her very first film. Gayle's performance is powerful and poignant, and as director Tony Kaye has stated, she is the lynchpin that holds the film together. As Erica, Gayle displays a heartbreaking vulnerability that reminds me of the young Liza Minnelli in "The Sterile Cuckoo," one of her first film roles.
I spoke with the now 16-year-old actress by phone and asked her if she had any reservations about taking on such a gritty character at her young age.
Sami Gayle: Tony actually had me in for a commercial he was directing. During the shoot, he threw me a script and said, "Don't worry, Sami, you're not the prostitute!" I was like, "What?" And he said again, "Don't worry, you're not Erica, you're Meredith!" I read the script and then all of a sudden he brought the producers for the film onto the set. I said, "You know, Tony, Meredith's body type doesn't fit me at all." And he said, "Oh no, Sami, you're playing Erica!" "Huh?" Then he shoved a camera in front of me and said, "Say something!" So I read some lines and he said "Perfect—you're hired!" So I was supposed to be all gung-ho about playing a prostitute! But later we discussed how we'd do it and how there'd be no nudity. I like to say I played a "classy" prostitute!
MSN Movies: Did you have to sell your parents on the idea of playing a teenage prostitute?
As odd as it sounds after the story I just told you, if there's one person in the world you can trust, it's Tony. He's just the nicest man. He talked to my mom and dad and assured them it would be a very safe environment for me to play this role. Sure, we had some reservations about it but at the same time I got this amazing, challenging role for my very first film—now I think it was the best thing I could have possibly done. I just knew after I read the script that even though I was only 14, I had to tell this girl's story. I didn't see her as a prostitute, I saw her as a troubled girl who needed to be led to a better way of life. I think she was innocent girl underneath all the drama.
I can imagine how wonderful it was to work opposite an actor like Adrien Brody for your first film.
It was a dream come true! Working with Adrien Brody was like going to Julliard, but instead of four years, I went for four weeks. He was like the Albert Einstein of professors, it was just the best experience of my life. Adrien was the most influential mentor in my acting career thus far, and even after the movie he continues to mentor me.
What kinds of things did he teach you?
Mostly the importance of really being present in a scene, of just forgetting about the cameras and just being there with the actors in the scene. I remember when we were going into this one intense scene, he said, "It has to be you and me against the world" and I thought, "Wow, that's one of the best things I've ever heard," I used that to drive my performance in the rest of the film because it's about these two people who are so different and yet so alike, they connect on so many different levels.