FEATURED POST
The two noted funnymen talk about everything, it seems, but their latest film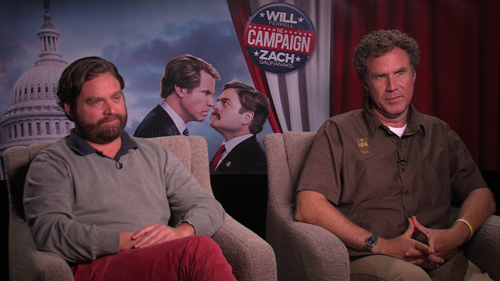 In "The Campaign," Will Ferrell's blow-dried-but-empty​-headed incumbent congressman faces unusual opposition -- Zach Galifianakis' civic-minded sap puffed up on a contributor's money and advancing a pro-business agenda. We spoke with the two about balancing comedy with actual points, how much of a role facial hair played in their work, and about how much improvisation they do, or do not, actually do.
MSN Movies: It's an election year, we're talking a lot about politics, values, financing ... but how important are facial hair and wigs in a comedy like this?
Galifianakis: In this show, the mustache was very important to the character, I thought. Without the mustache ... the character would have been way too good looking.
Ferrell: (Laughs)
There has not been a great political tradition of American presidents with mustaches…
Galifianakis: No. For a long time ...
A long time, since photography.
Galifianakis: Where are you from?
I grew up in Canada, but I live in California.
Galifianakis: Okay.


Is that okay?
Galifianakis: Well, I was just trying to think of Canadian…
Ferrell: Any Canadian politicians with substantial mustaches?
No ... Trudeau was bald.