FEATURED POST
Videodrone's take on the biggest, best, coolest and culty-ist releases of the week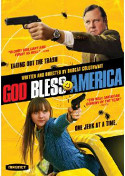 New Releases:
"God Bless America" (Magnet), from writer/director Bobcat Goldthwaite, is a blood-soaked black comedy about an angry everyman (Joel Murray, brother of Bill) who takes a gun to most offensive and irritating media celebrities. Blu-ray and DVD, with commentary and other supplements. Reviewed on Videodrone here.
"The Hunter" (Magnolia) is Willem Dafoe, a mercenary hired by a shadowy corporation to hunt a fabled tiger in the jungles of Tasmania, in the drama co-starring Frances O'Connor and Sam Neill. Blu-ray and DVD.
"Jesus Henry Christ" (eOne) is a family comedy, in the sense that it's about a boy who goes in search of his biological father, starring Toni Colette and Michael Sheen. And Kevin Corrigan is "Some Guy Who Kills People" (Anchor Bay) in the serial killer black comedy. Both DVD.
Plus: "Mac + Devin Go To High School" (Anchor Bay) with Snoop Dogg and Mike Epps and "The American Dream" (Image), originally titled "Make a Movie Like Spike," from director/star Jamil Walker Smith.
Browse the complete New Release Rack here
TV on Disc:
"Dynasty: The Sixth Season" (Volumes 1 & 2) (Paramount) – John Forsythe, Linda Evans, and star in the glitzy nighttime soap of dirty dealing, illicit affairs, backroom conspiracies, and other family values of the rich and famous, all of it tastefully garish and elegantly outré. 30 episodes on eight discs in two volumes. DVD only. Videodrone's review is here.
"The Secret Diaries of Miss Anne Lister" (BBC) - Maxine Peake plays Anne Lister, a 19th century woman who lived openly as a lesbian, in this BBC telefilm is based on her diaries. "Madame Bovary" (BBC) is the 2000 BBC production starring Frances O'Connor. Both DVD only.
"Midsomer Murders: Set 20" (Acorn) presents the final episodes in the long-running British mystery series starring John Nettles as the unflappable DCI Barnaby, before he passes the job on to Neil Dudgeon. DVD only.
Plus: "The Streets of San Francisco: Season 3" (Volumes 1 & 2) (Paramount), "Mannix: The Seventh Season" (Paramount), and "George Gently: Series 4" (Acorn).
Flip through the TV on Disc Channel Guide here


Cool, Classic and Cult:
"The Devil's Needle (and Other Tales of Vice and Redemption)" (Kino) collects three social dramas / exploitation melodramas of the silent era, including an early starring role from Norma Talmadge. Silent with music score, Blu-ray and DVD.
"The Great Killing" (AnimeEigo) is a 1964 samurai drama from Eichi Kudo, director of the original "13 Assassins." Japanese with English subtitles, DVD only