FEATURED POST
But why?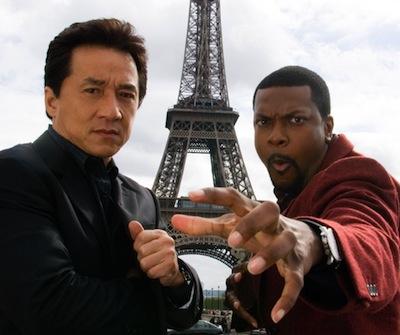 When "Rush Hour 3" came out in 2007, it appropriately felt like that franchise's swan song. The jokes were stale and unfunny, Jackie Chan could barely bend his knees, and Chris Tucker seemed to overcompensate for everything by loudly bleating his lines like a badly injured goat. The only positive thing that came out of the movie was that it—combined with the poor reception of 2006's "X-Men: The Last Stand"—momentarily derailed Brett Ratner's career. Caught in a tailspin of turgid plots and ever-dwindling profits, Ratner somehow didn't stain Hollywood's good name or erode our cultural currency with another "film" until 2011's semi-disastrous "Tower Heist."
Still, despite all of the above, certain malevolent forces seem intent on making "Rush Hour 4" a reality. Or at least series producer Arthur Sarkissian, who revealed as much in an interview with
Crave Online
. His plan? To introduce two younger characters who could keep the franchise going indefinitely, but have Tucker and Chan around at least for one more installment to sort of "pass the torch," as it were? Maybe. But Sarkissian also envisions Chan getting married to "The Help's" Oscar-winning Octavia Spencer, because: funny.
The one saving grace of Sarkissian's seemingly sad little plan? That Ratner, mercifully, would not be involved, unless he agreed to do it "the right way," whatever that is. Taking cues from the original "Rush Hour" and also "Fast Five," Sarkissian sees this next sequel as both grittier and more down-to-earth, while also possibly introducing Tucker and Chan to a new, heretofore unseen world. At least for them. Does that mean they'll be fired from their jobs, and subsequently forced to break into INTERPOL headquarters to retrieve the evidence that will exonerate them for the attempted murder of the Micronesian ambassador? Only time will tell. More details as they become available!