FEATURED POST
Todd Robal's raucous comedy skewers his own childhood experiences as a Boy Scout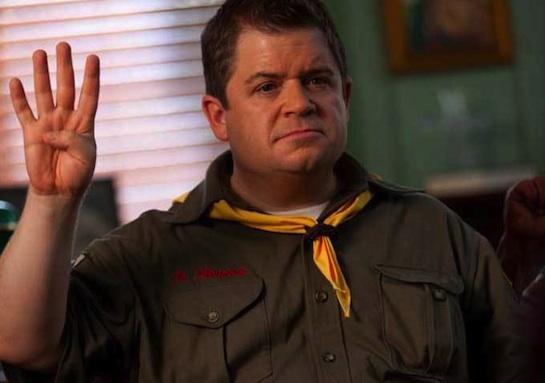 Can a film about a group of scoutmasters and their young charges be jaw-droppingly inappropriate and politically incorrect and still uplifting at its core? Watching Todd Robal's "Nature Calls," I'd have to say the answer is yes! Basing the screenplay on his fond memories of his years as a Boy Scout in Ohio, Robal hired some of the funniest people around to portray the wacky adults in this insane but surprisingly sweet tale of a group of misfit scouts and their misfit leaders. The always great Patton Oswalt (who, in my opinion, should have received an Oscar nomination last year for his poignant performance in "Young Adult" opposite Charlize Theron) plays Assistant Scoutmaster Randy Stevens, determined to honor his ill father's scouting legacy by mounting one last adventure for his dwindling troop. When he convinces a group of boys, including his nephew, to ditch a slumber party to head off into the wilderness, his brother (Johnny Knoxville) goes in pursuit of the scouts along with his security guard friend (Rob Riggle). The supporting cast includes Maura Tierney, Darrell Hammond, Kelly Coffield Park, and, in his final screen appearance before his untimely death last year, comedian Patrice O'Neal.

I talked to Patton Owalt, Rob Riggle, and writer-director Todd Robal in Los Angeles.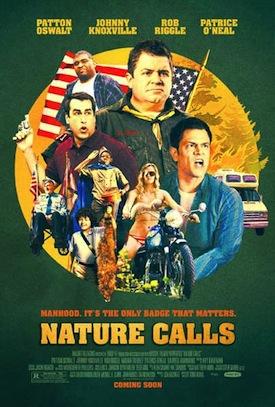 MSN Movies: I love how this film is so unrelentingly and unapologetically inappropriate! When else will you ever get the chance to swear nonstop at a group of eight-year-olds?
Rob Riggle: It was all in the editing. A lot of times they weren't really there!
Patton Oswalt: All digital effects!
When you're casting children for this kind of movie, do you have to be super clear with their parents about what's in store for them?
Todd Robal: Absolutely! Especially when you're filming a naked woman in front of a group of young boys!
Yeah, what was the deal with the naked woman on a motorcycle? Where did that come from?
Patton: She just showed up on the set one day so we decided to go with it!
Todd, was that something you actually experienced when you were a scout?
Todd: Only in my dreams!
Bing: Patton Oswalt | Todd Robal
I noticed the one area you stayed away from in the film—and I'm so glad that you did!—was any suggestion of sexual inappropriateness with the scouts.
Patton: Yeah, there's nothing funny about that. But I do think it's funny when you see adults doing things that are really fucked up because they think it's going to be a good lesson for the kids. That's what we were going for.
Todd: We deliberately stayed away from all that stuff. The guys I had as leaders when I was a scout were totally messed up, but nothing like that! On the other hand, Rob improvised a lot during his scenes and it seemed like his standard "go-to" was jokes about pedophilia! Of course I had to cut all that stuff out. He made our producers crazy!
I do like how these guys believe that all their crazy plans will be good for these overprotected boys—no matter how dangerous or nuts. And in a way they're right!
Rob: I really loved Patton's character for that reason. As an audience member I was totally pulling for him.
Todd: I remember seeing some of my friends' parents who may not have been the best parents in the world and were pretty messed up but I admired them because their hearts were in the right place and they were really trying to steer their kids in the right direction. I do think that the kids in this film are stronger at the end because of their experience.