FEATURED POST
Why has this never happened before?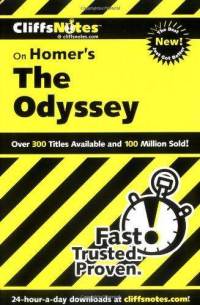 Well, they've finally done it! In what must be great news for literary-minded high school students and/or college freshman too lazy to even read the Cliff Notes version, Warner Bros. has announced their intentions to make a film out of Homer's epic "The Odyssey." In
space
!
Similar to previous,
slightly-altered-fro​m-their-source-mater​ial
adaptations like the Coen Brothers' "O Brother, Where Art Thou?"—also based on "The Odyssey"—or Alfonso Cuarón's "Great Expectations," this new "Odyssey" promises to be close enough to the original to appear helpful, but different enough to be academically worthless. As in, good luck citing it in your term paper's bibliography.
According to
Deadline
, Warner Bros. has tapped recent NYU alum and 2012 Black List nominee James DiLapo to write the screenplay, with the idea of turning the property into a franchise. Which seems slightly foolish, considering Homer himself never deigned to write a sequel. Although, they could go
backwards
 and make a prequel, so as to make "The Illiad" in space. But would they go in that direction so soon after Wolfgang Peterson's more straight-up "Illiad" adaptation "Troy?" Wait, we forgot who we were talking about here. Of course they would!
What do you think, Hitlisters? Are you interested in seeing "The Odyssey" in space? Can you conceive of a franchise based on that premise? And whom should the producers seek to play Odysseus, so memorably portrayed in "Troy" by international treasure Sean Bean? As always, let us know in the comments...