FEATURED POST
On race, re-mixed history, Tarantino, The Drive-By Truckers and what he always steals ...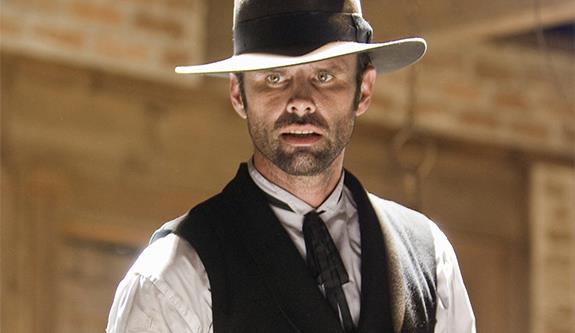 With his features easily turned to emphasize the haggard air and haunted eyes -- eyes, as the poet said, like the devil's sick of sin -- Walton Goggins has made a sideline in sputtering killers and swaggering crimelords. But he's also a deft comedic actor, and even his most brutal characters have their human moments -- indeed, some would argue that Goggins' work as Shane Vendrell on "The Shield" is an acting achievement on par with Oscar-level work at a time when the bar for acting on TV was raised by heavy-hitters like James Gandolfini. And while he's along for the ride in Tarantino's maniacal and majestic  "Django Unchained," he's also, ironically, in Spielberg's "Lincoln" as well, a single actor bridging two films that, in an insane way, would make a hell of a double-bill. We spoke with Goggins by phone while he was in New York about "Django Unchained," the morality of cinema, and the American rock-and-roll of The Drive-By Truckers.

MSN Movies: You got to work with Quentin Tarantino and Steven Spielberg, never mind the weird, historical and sort of like cultural similarities and differences between the two films. But in a given year when you get to work with those two directors. you've got to be feeling pretty good about how your career's going.
Walton Goggins: C'mon man, like talk about walking amongst giants? You know? It's an extraordinary coincidence of events, man. I'm still kind of reeling from these two experiences kind of back to back. peppered with my show in the middle.
And that's the other thing, with "Justified" going great and all of that. But I mean more importantly, all kidding aside; those have to be very different sets. Can you talk a little bit about the differences when you're working with on something like "Lincoln" and on something like "Django"?
Well you know, one movie deals with legislation and it's effort to change the hearts and minds and laws in this country, and most of it is spent with Lincoln or in the House of Representatives and it's quieter and it's raucous when it needs to be. The other deals with change through revolution, and it is loud and violent and funny and all of the things that happened during revolution. And so yeah, they were very different. Both Quentin and Steven are so passionate about what they do and how they do it, and they're so confident in their ability and comfortable with what they do that they allow themselves a lot of freedom to improvise and find shots in moments and find moments within the shot that are even more specific, are more pointed to what it is that they're saying. Steven is in some ways a little more reserved in the way that it kind of comes out, and Quentin is a little more passionate in the sense that it's a little bigger than life. And you just, it's everything that you want., like the combination of both of those people. It's everything that you want when you set out to tell a story. You want to approach it from both ways, and I really, these experiences back to back will serve me in ways that I'm still trying to understand going forward.
I mean, moving on with "Django Unchained," one of the big pleasures of that film is this sort of comprehensiveness of the ensemble and that you'd throw a rock, you're going to hit somebody interesting who knows how to hold the screen, who knows the part they're doing, but still finding time to do all of that. When you read the script, did you know…
I think then the same thing applies to "Lincoln."
Right, right.
Go ahead. But we're talking about "Django."
Right.
Yeah.
But when you read the script and you saw the kind of stuff that Billy was doing, the very specific antagonism and a very specific resolution, were you thinking, "Yeah, I can do that. There's stuff, there's room there for me to make an impression in my antagonism with Jamie Foxx's character"?
BING: Walton Goggins l The Drive-By Truckers

Yeah, absolutely. The Billy Crash that I started with is not the Billy Crash that I ultimately ended up with in the sense that when I first got there Billy Crash was in the three or four scenes and one of which was really funny and tender and involved the story line with Broomhilde. And then when Kevin Costner dropped out, or not dropped out, when Kevin Costner had a scheduling conflict and then Kurt Russell had a scheduling conflict, Quentin came to me and said, "I want you to play this role of Ace Woody, but he's going to be, we're going to call him Billy Crash." So then it became kind of a hybrid of both of them.
But even in terms of the expediency of putting those things together, still having stuff there in the script and on film, to really put together a strong set of impressions in terms of character-making.