FEATURED POST
Seth MacFarlane's foul-mouthed teddy comedy, 'Ted,' moves into its freshly vacated June 29th spot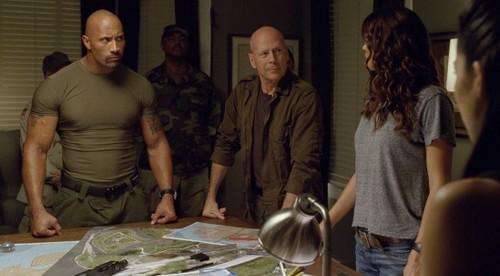 It's time once again for everyone's favorite game, Armchair Studio Executive! (crickets)
In a move very rare for a heavily-advertised summer tentpole just five weeks out from release, Paramount has
reportedly
pulled "G.I. Joe: Retaliation" from its June 29th date and planted it on March 29th, 2013, a less competitive weekend where a new "Spider-Man" movie isn't opening right on its heels and "The Dark Knight Rises" doesn't loom just over the horizon.
To hear it from Paramount, they have the foreign markets in mind. An after-the-fact 3-D conversion is now in the cards, given how well it served their own "Titanic" re-release in April. This also prevents the sequel from competing with international events such as the Summer Olympics. Some say that the film is due for much-needed reshoots, not often a good sign, while others suspect that last week's tepid domestic reception of "Battleship" sees "G.I. Joe" putting some distance between itself and its Hasbro brethren.
Of course, "Retaliation" had initially been moved to this summer in order to fill a hole left by "Star Trek 2," leaving Paramount with no substantial tentpole to call its own after pretty much splitting "The Avengers" with Disney. Fox has "Prometheus," Sony has "Spider-Man" in addition to this weekend's "Men in Black 3," Universal has "Snow White and the Huntsman" and "The Bourne Legacy" -- "Madagascar 3" and a Katy Perry concert film don't exactly carry the same cross-quadrant appeal that "G.I. Joe: Retaliation" might have.
Deadline
also reports
that the move hasn't stopped Universal from quickly bumping Seth MacFarlane's "Ted," starring Mark Wahlberg and Mila Kunis, up to the 29th from its initial July 13th date, on which "Dark Knight" lurked a mere week away. That now pits the R-rated comedy up against the Channing Tatum stripper story, "Magic Mike;" the Chris Pine-Elizabeth Banks drama, "People Like Us;" and Tyler Perry's latest Madea movie. The studio hopes that their picture can now carry word-of-mouth success over the Fourth of July.
Alas, whether or not a swearing, drinking teddy bear can fill the void left in our hearts by The Rock remains to be seen.