FEATURED POST
Making my film debut as one of the undead in Jonathan Levine's new film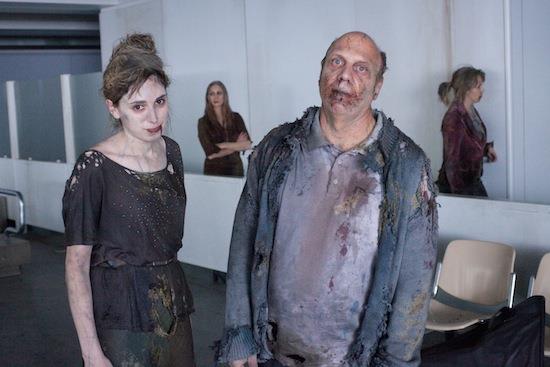 Practicing my zombie stare on the set of "Warm Bodies" with fellow journalist Perri Nemiroff
It's always fun visiting the sets of big movies, that's one of the perks of writing about the film industry. But it's a very rare treat when we get to actually be IN the movie—especially as a glassy-eyed, rotting-fleshed, blood-spattered zombie in Jonathan Levine's upcoming "Warm Bodies," starring Nicholas Hoult, Teresa Palmer, Rob Corddry, Analeigh Tipton, and John Malkovich. When a group of journalists and I arrived at the abandoned airport just outside of Montreal that was serving as one of the primary locations for this post-apocalyptic love story, we hardly knew what we were in for.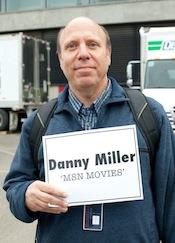 Hustled into a huge airport hangar that was serving as the makeup and costume headquarters for the multitude of zombie extras, we were led to the talented French Canadian costumers to begin our transformation. They had received our sizes in advance and had deliciously grimy zombie ensembles waiting for us in a bank of dressing cubicles. In the story, some sort of catastrophe had decimated the earth's population several years earlier. The dead were transformed into a flesh-eating band of zombie amnesiacs who couldn't remember their previous identities. The only clues to be found were in their clothes—everyone was still wearing what they died in. I liked my zombie duds—maybe I was some kind of hipster artist when I caught the fever, sipping an $8.00 latte made from rare Sumatra beans. Hell, I hadn't worn pants that nice since my wedding! True, everything was covered in filth, but hey, washing machines were hard to come by after the apocalypse! Once we were dressed, we were sprayed down with more dirt and scum, with eager costumers liberally applying a substance that looked remarkably like dried vomit.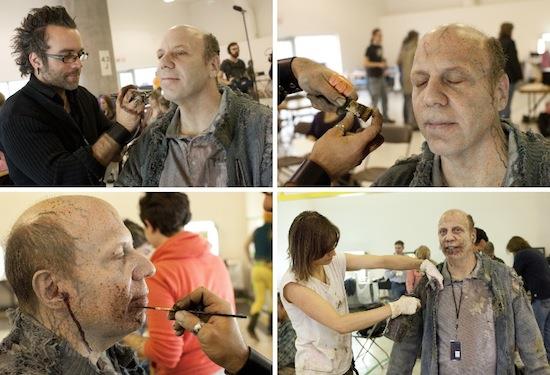 We then each got our own makeup person, one of the army of French Canadian artists who were responsible for creating the zombie hordes every day. I was able to speak French with my makeup maven who first covered my face, neck, and hands with the pallor of the undead, and then went to town adding darkened veins, dried blood, and general rot to every inch of my exposed skin. I loved it, and if I say so myself, I was one of the scariest-looking zombies of the group. "I had a lot of canvas to work with," the makeup guy said proudly in French after surveying the gruesome artistry he performed on my bald head.