FEATURED POST
Jennifer Lawrence and Josh Hutcherson get prepped by Lenny Kravitz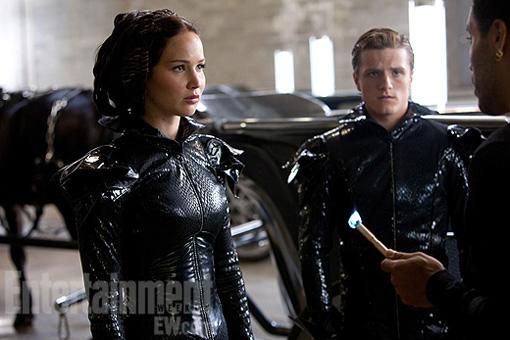 As we stalk ever-closer to the release of Lionsgate's "The Hunger Games" adaptation, we are continually treated to more tantalizing looks at what the final film will look like. That's a nice way of saying that the film's marketing continues to be oddly slim for a film that is being hailed as Lionsgate's answer to "The Twilight Saga." I'm not even a hardcore Mockingjay, and I'm all but begging for a real full-length trailer and some beefier character posters, I can't imagine how fan of the YA trilogy feel.

As part of that slow trickle of marketing material, Lionsgate has just released a new still from the film, showing young Katniss Everdeen (Jennifer Lawrence) and Peeta Mellark (Josh Hutcherson) prepping for their Opening Ceremony debut for the 74th Annual Hunger Games. An annual fight to the death between the children of a future America, the Hunger Games are a vicious battle that only has one winner - a battle that the entire country is forced to watch and are incapable of stopping. As the participants ("tributes") from the Capitol's poorest section, District 12, Katniss and Peeta are outfitted for their debut in duds that reflect the main export of their home: coal.

Director Gary Ross explained the look to EW (who has the exclusive on this image, hence watermark): "What Cinna [Lenny Kravitz] was trying to do was create something that came out of District 12, out of a coal mining world, with a fresh, bold look to it. So [costume designer Judianna Makovsky] went to this wonderful black reflective material that glistened like coal or graphite and would obviously work well in the Tribute parade where Katniss becomes the Girl on Fire." If you're familiar with Suzanne Collins' trilogy, you already know what to expect when Katniss becomes said Girl on Fire, but it will be interesting to see just how that look is accomplished on-screen. This is a good start, and Kravitz's in-hand fire-starter seems to show that they're not remiss on lighting Lawrence up.

"The Hunger Games" opens in theaters on March 23.