FEATURED POST
'Joseph Gordon-Levitt and Bruce Willis don't look anything alike ...'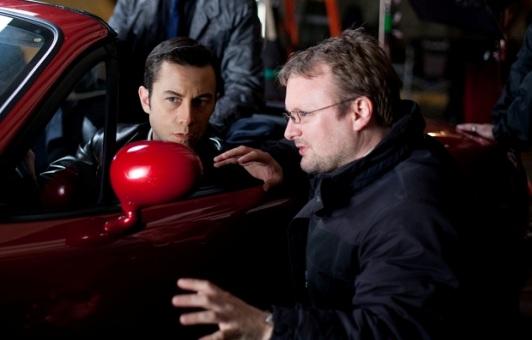 Known for directing the Sundance indie hit "Brick" and his follow-up "The Brothers Bloom," writer-director Rian Johnson has made his jump to a major studio -- and working with major movie stars -- in Sony Pictures' "Looper," his mash-up of retro film noir and forward-looking time travel, where Joseph Gordon-Levitt plays a near-future hit man tasked to kill victims sent back from a future 30 years up the line ... who ultimately has to kill, and fails to kill, his future self (Bruce Willis), leading to an existentialist gun-toting nightmare: What do you do when you're trying to catch, and kill, yourself? We spoke with Johnson in Toronto about the logistics of time-travel, working with capital-S movie stars, makeup and effects, and selling emotion with a fast-paced plot in motion.
MSN Movies: Why time travel?
Rian Johnson: Well, actually ... let me figure out the time travel thing. This weird concept just kind of popped into my head, and I wrote the idea for it about ten years ago, and at the time I was reading a lot of Philip K. Dick, so I think my brain was just kind of steeped in sci-fi notions. So yeah, for whatever reason, this idea of the basic plot -- a hit man in the present, mob in the future, they send him his older self back and there's a chase. That was kind of the initial seed of it. Time travel was just kind of a necessary element to that, I guess.
When you're working on something like this, is the number one task you assign yourself to figure out what other people have done with the concept? Did you do a bunch of like conceptual, cultural research? Did you just go, "No. I got this ..."?
                                                                           BING: Rian Johnson l 'Looper' 
Well, it's not the number one task but it is really useful ... or I found it useful just 'cause time travel was such a sticky wicket narratively. It's such a thing that it's difficult to figure out how to work (it) into a two hour movie. So seeing how other filmmakers handled it well was really useful. And for me, the model for this one was the first "Terminator;" James Cameron, you know, handled it in a way that to such an extent that it's easy to forget that it's a time travel movie. It's easier to forget that it's an element of it, 'cause that kind of time travel sets up the situation and then totally gets out of the way and it's just about the situation with these characters playing it. And we have a little more ... we toy with time travel a little bit more than that movie did, but it's the same basic concept.
It's not the whole thing where you have infinite numbers of identical people popping out of the future because it's implied it's a one-way trip.
Yeah, exactly.  It implies it's a one-way trip, and the limitations on it were the important thing. The time travel doesn't exist in the present, so a limited number of characters have access to it and know how it works. It only exists in the future. The time travel machine is set to a fixed amount and it's not tunable ... so they can only (send things 30 years back), so the gap of where this time travel machine sends people back to slides forward as time keeps sliding forward. I was figuring out things like that and also how to deal with the paradoxes. I came up with just a whole approach how the system of time travel works in terms of the universe and how the universe takes these paradoxes in and deals with them. But then you get all that in your head, and then it's a process of figuring out how little of that you can get away with explaining during the course of the film.
Because nobody's excited by a movie called "45 Minutes of Rules"?
Exactly. (Laughs) We've seen that movie.