FEATURED POST
See it back on the big, big screen for special one-week engagement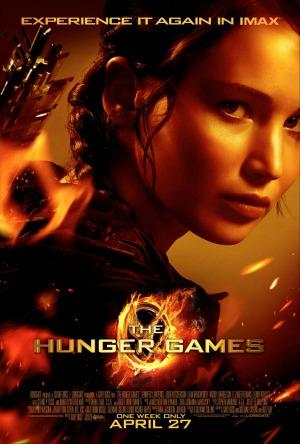 Lionsgate's "The Hunger Games" has become an (as expected) monster hit, so it's no surprise that the studio is returning the film to IMAX theaters for another limited run on the giant screen. The film received a similarly limited IMAX run in its first week, racking up $13.2 million in ticket sales just from IMAX theaters alone (the film has currently grossed $533 million worldwide)
The film will return to IMAX screens on April 27, with the run completing on May 3. The film will play in over 100 IMAX theaters across North America, and will likely continue to pull in the dough for the film. Though not shot on IMAX cameras, the film has been digitally re-mastered to have IMAX quality image and sound. And, well, it's big!
 
It looks as if Lionsgate and IMAX are going for repeat customers when it comes to these IMAX viewings, releasing a new poster today that clearly says "EXPERIENCE IT AGAIN" and remarking on bringing back in fans of the film for more. Lionsgate's Motion Picture Group Co-Chair Rob Friedman said, "It's wonderful that so many fans have expressed interest in seeing The Hunger Games in the immersive IMAX format, and many of these are repeat viewers...We're delighted that IMAX has been able to accommodate them through this special one week re-engagement."

Are you a fan of the film? Did you see it in IMAX? Will you see it in IMAX now?