FEATURED POST
Singer's film will be released in time for Fourth of July consumption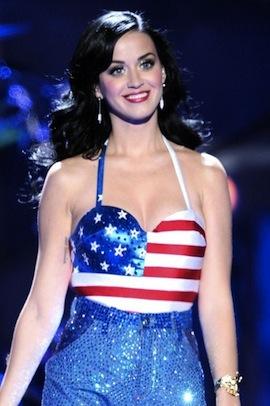 What better way to celebrate America's birthday than with a cinematic spectacle of fireworks, cupcake-exploding bras, and catchy pop tunes? Katy Perry's 3D concert film has been imminent for months now, but the songstress revealed at this weekend's Nickelodeon Kids Choice Awards (via THR) that her film will be called "Katy Perry: Part of Me" and will be in theaters in time for the Fourth of July holiday. 
While the exact release date of the film has not yet been announced, it could serve as counterprogramming to the only two wide releases during that holiday week - "The Amazing Spider-Man" and Oliver Stone's "Savages."
Magical Elves are reportedly in talks to direct the movie, which would be a good fit for the company, who are best known for their reality television shows, but who previously produced Justin Bieber's own 3D concert film, "Never Say Never." That film made nearly $100 million worldwide, despite a scant $13 million budget.
Would you go see a Katy Perry concert film?