FEATURED POST
The Australian actor discusses working with Jennifer Garner and 'Warrior' fights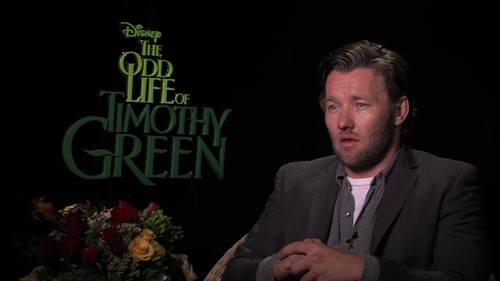 Once again, in "The Odd Life of Timothy Green," Joel Edgerton is the All-American lad. He's done it before, in "Warrior," and he'll do it again, soon, in Baz Luhrmann's upcoming "The Great Gatsby." But for this film, the Australian actor is one half of a couple whose red-wine wishes for the child they can't have literally come to life, playing opposite Jennifer Garner as his loving spouse and C.J. Adams as young, strange Timothy. We spoke with Edgerton in L.A. about magic, realism, comedy, and living down George Lucas' "Star Wars" prequels in front of the karaoke guy.
MSN Movies: In this, you and Jennifer Garner play a married couple who want to be parents, write down all of our hopes for a child they know they can't have, bury it in the garden, out comes this wonderful child ... but as you read this were you ... not cynical, but a little bit suspicious thinking how are they going to make this work on screen?
Joel Edgerton: Oh, definitely, definitely. And it's a real interesting balance 'cause you're like... do you go through the trouble of trying to over explain a science or create a science that's feasible? The best thing you can do is just have faith that your audience still believes in magic and that you hand them the conceit and they'll take it on board once they know what's the story. And I think the reason it works is 'cause we were all kids at one point, and at one point we all fully believed in magic. And I think now, as we get older, we kind of still hope to believe in magic. So yeah, I mean I was a little bit concerned, but I did have faith.
Were you startled, reading it and working with Miss Garner and young Mr. C.J. Adams, at how funny the film was? At how much potential for comedy and human frailty there was in it and not just (phony-smiling) "Ahhhhhhh"?
Yeah, absolutely. I think the movie needed to have a warmth and humor to it, otherwise it would be too earnest and too weird in a way. But the fact that we had a chance to kind of be silly -- to a degree, mind you, too, 'cause I think if you swing the pendulum too far it'll become like a pie in your face kind of movie.
It can't be the "The Wacky Life of Timothy Green," either.
Yeah, yeah. "The Incredibly Odd and Wacky Life of Timothy Green" 'cause then it's harder to get them back at the end in terms of getting them to really feel real emotion as well I think.