FEATURED POST
Once you're a spy who's a superhero, what new worlds are left to conquer?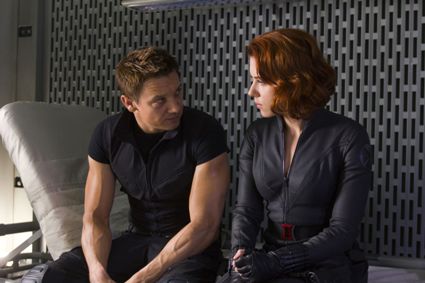 As the two most human members of The Avengers – super-spy Black Widow and master marksman Hawkeye – Scarlett Johansson and Jeremy Renner play some of the more relatable characters on-screen among the super-soldiers and techno-titans and space-gods making up the rest of the team. We spoke with the two in Los Angeles about jumping to blockbuster territory, occasional confusion induced by the vastness of it all and what super-cool jobs they'd like to play on-screen next.
I and a lot of the audience have had a chance to know you from great indie films like "Lost in Translation" or "Girl with the Pearl Earring" or "Twelve and Holding" and "The Hurt Locker," but now you're in all of this muchness. What's that like? How's it different, and how is it the same?
Jeremy Renner: People go see this.
Scarlett Johansson: Yeah, essentially it's the box office draw. Kids can see this movie. I think it's funny. You think you're a part of something, and you read the script and you're like, "Whoa, this is massive." Actually, when we're on set and we're shooting, other than the sets, it doesn't feel really huge, unless you're doing a scene where all of us are together and we're there in the scene all against Loki. All of sudden you notice that everyone from Marvel is there, and they brought their kids, and the set is full of people. Everyone just has this excitement on set, and that's when you're like "Whoa, this is big." You can kind of feel the weight of it.
But when you're shooting it, it's just these normal, regular, dramatic scenes where you just happen to be standing on a flying aircraft carrier?