FEATURED POST
They've got records to Hulk-smash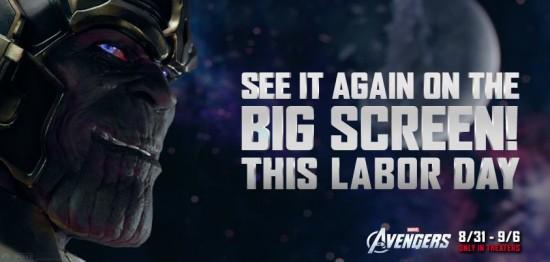 With a relatively quiet weekend of new openers at the box office (including the
already-opened-on-We​dnesday
"Lawless," family film "Oogieloves in The Big Balloon Adventure," horror flick "The Possession," and limited release phone sex comedy "For A Good Time, Call..."), this Labor Day holiday looked to be a weak one for movie-goers and perhaps a disappointing end to the summer season. Which is something that Marvel Studios clearly noticed.
The film's
Facebook page
(via
/Film
) reports that Marvel's smash hit "The Avengers" will return to theaters today for a special one-week engagement. Joss Whedon's film will play from today until September 6 in a late summer expansion that will give the film one last push to break some big records. 
As /Film notes, the film is just $40 million away from being the second highest grossing domestic film of all-time (behind "Titanic"), and this sort of last gasp should help it capture that second place title. However, even with this one week engagement, "The Avengers" will still not top the all-time domestic grosser - "Avatar," which made over $760 million in domestic box offices.
Will you go see "The Avengers" this weekend?
"The Avengers" returns to theaters for one week, playing August 31 to September 6. The film hits home video on September 25.