FEATURED POST
An animator jumps to live action, and a man's best friend is his bear.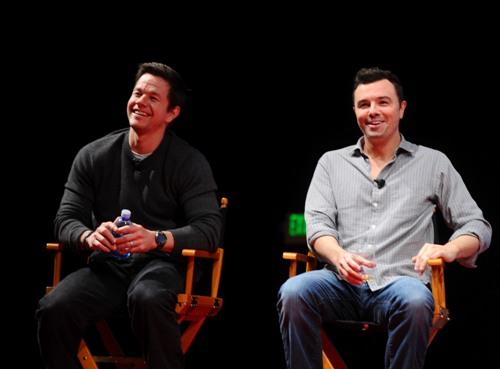 At South By Southwest on Sunday, Seth MacFarlane was the subject of a 90-minute panel -- not only looking at his career as the creator of "Family Guy," but also sneak-peeking footage from his upcoming feature-length film debut, "Ted." Starring Mark Wahlberg, "Ted" is the story of a little boy, John, whose wish brings a stuffed teddy bear to life. After some confusion and a little bit of notoriety -- we see Ted appear on the Carson show, thanks to digital trickery -- the film fast-forwards to 25 years later, when Ted and a grown-up John, played by Wahlberg, are living together in Boston, with Ted now voiced by MacFarlane in a Boston accent and ripping bong hits on the couch. The clips included a brutal hotel-room fight with Ted -- meticulously choreographed and with brutal sound effects, as if Jason Bourne were being assaulted by a bad guy from F.A.O. Schwartz. We also saw Ted ask Wahlberg to guess the "white trash girl name" of a woman he's interested --- with Wahlberg reeling off a list of possibilities with perfect timing and comedic deadpan. As a surprise guest, MacFarlane then brought out Walhberg -- who said, blankly, "I don't know what the f**k I'm doing here …" -- to take questions from the crowd. Later, we spoke with both Wahlberg and MacFarlane about making the jump to live action, working together, and the challenges of acting opposite a co-star who isn't there.
MSN Movies: When you're doing animation, for just one example, all you do to maintain consistent lighting tone is use the same paint or digital color or whatever. What completely threw you about doing live action?
Seth MacFarlane: There's nothing that really was all that jarring. There's a lot I learned in the process. Some things I knew prior going into it. The advantage is coverage. In animation you don't have any coverage. You plan what your shots are eight months in advance, and those are the shots you have. You can change how tightly you cut them or how loosely you cut them, but you go to your close-up on this line, you go to your wide shot on this line, and that is what you have. The editing process was defintely the biggest change, because you have options you don't have in animation.
Animation is all one take.
MacFarlane: Yeah, you storyboard everything, and that's what your animators produce.
And Mr. Wahlberg, how did you get involved in this enterprise?
Mark Wahlberg: It's funny because I was sent the script from a person from another agency who's trying to sign me. Then I go to my agent, "Sorry I just -- don't you represent Seth MacFarlane?" he's like "Yeah," and I'm like "Why didn't you f**king send me the script Ted." He goes, "Well I got to get him there. He's not there yet." I read the script, and Seth took a meeting with me, and I just told him why I could do it better than anybody else.