FEATURED POST
... And it's more or less what we've already seen before!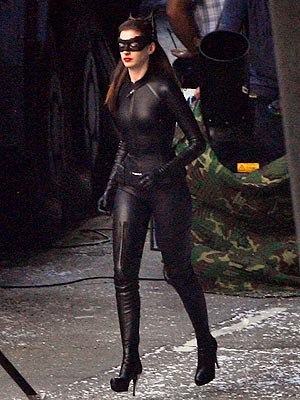 If there's one thing we love more than
Christopher Nolan
's "
Batman
" movies, it's grainy paparazzi photos of Christopher Nolan's "Batman" movies. Fortunately for us, our news feed and e-mail inbox has been overflowing with the ubiquitous poor-quality spoilers, which continue to pour in from Pittsburgh and wherever else "
The Dark Knight Rises
" is filming.
Today brings us a slew of new images, this time (finally!) depicting
Anne Hathaway
in her full Catwoman regalia. Although these aren't the first pictures we've seen of her in the film—and might be considered slightly underwhelming by those already familiar with her look—they do offer us our (first?) best look yet at her full, completed costume. 
The mask! The ears! The heels! The skin-tight leather! The... bright red lipstick? The... dangerously not-tied-back hair? Okay...
Some of these details would seem to clash with Nolan's ostensible commitment to realism. (Like the high-heels.) We're betting that, like the listening devices concealed in Batman's ears in "Batman Begins," the Cat-ears will also serve an as-yet undetermined function. The rest of the costume? Hmm... Not so much.
While we have full faith in Nolan's direction (not to mention Hathaway's acting), we remain unconvinced about her casting. But that's just our (admittedly guarded) opinion. What say you? How does Anne Hathaway look in the role? And how does she compare to earlier cinematic Catwomans
Halle Berry
and
Michelle Pfeiffer
? Check out the photos—posted after the break—and decide for yourself.