FEATURED POST
The two former Oscar hosts may be singing together again in a film adaptation of the hit Broadway musical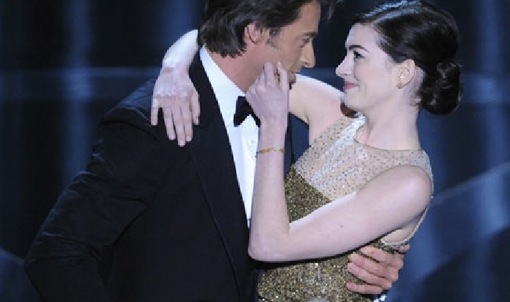 Two years ago, Hugh Jackman hosted the Academy Awards and hit it out of the ballpark. In a splashy opening number, he approached audience member Anne Hathaway who "spontaneously" burst into song and wowed the crowd with her unexpectedly fabulous voice and comedic chops. I have no doubt that it was this short bit that put the idea in the producers' heads to give Hathaway a shot at the prestigious hosting duties. Earlier this year, Anne Hathaway joined James Franco in a disastrous outing that nearly sank the entire Academy Awards broadcast. Much has been written about why the co-hosts laid such an egg (most blame Franco's comatose demeanor and felt that it made Hathaway's high-spirited exuberance seem desperate and pitiable), but in the end, the debacle may have been worth it for Hathaway—it served as an impromptu audition for what may be her next big film role.
At one point in the miserable Oscar proceedings, Hathaway sang a song about Jackman's refusal to perform a duet with her during the show. The song was a parody of "On My Own," one of the best solo numbers from "Les Misérables," the celebrated musical based on Victor Hugo's masterpiece. The number tanked like every other poorly written moment that evening, but it did prove one thing to Jackman, the well-dressed folks at the Kodak Theatre in Hollywood, and the billion people watching around the world: that Hathaway girl can SING! Not only that, but she has the pipes to do justice to a belting tour-de-force from one of the most venerable musicals ever written.
Now comes word (via a Broadway World exclusive) that Anne Hathaway is set to play Fantine in the long-awaited film version of "Les Misérables." And apparently, it was Hugh Jackman's idea. Jackman will be playing the long-suffering Jean Valjean in this epic tale of misery and redemption set in 19th century France. The film, scheduled to start shooting next year, will be directed by Tom Hooper ("The King's Speech"). A host of A-list actors are being courted for other roles including Geoffrey Rush, Helena Bonham Carter, Russell Crowe, and Emma Watson. I'm excited for Hathaway, who I think will shine as the tragic Fantine. She'll get to sing "I Dreamed a Dream," the musical's most famous ballad, which she might also have parodied during last February's painful Oscar broadcast:
I had a dream tonight would be
So different from this hell I'm living
So different now from what it seemed
Now James Franco has killed the dream I dreamed.