FEATURED POST
Art, excellence and Ernest Borgnine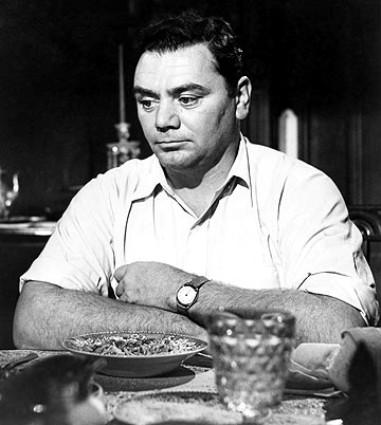 As I discussed yesterday, the Oscars are far from perfect. Predicting systems is tough, primarily because, as Jeff Goldblum taught us in "Jurassic Park," no system is perfect -- there's a lot of wiggle and waggle in the ways of Oscar voters. I like to predict socilogically --  by imagining the world view of a very experienced, very talented man who has a decades-long commitment to entertainment. In short, I try and think like Ernest Borgnine. Herewith, my picks, and those I suppose Ernest would make, in the major categories.
Best Director:
My Pick: Terrence Malick for "Tree of Life." Yes, I've mocked "Tree" through the year as a little too too, over-talky and rambly. But no other film this year was as unquestionably the statement of one director's will and vision, and we have to hold that in some regard. Oscar goes to Haznavicius.
Ernest's Pick: "Wow, that 'The Artist' is one heckuva film, isn't it? It really recreated the films of my youth -- a time before sound, before color, before the U.S. Armed Forces were integrated. That Michael Janavoo-choo-nuu-ciu​s guy really did it, and he deserves it!"
Best Screenplay, Adapted
My Pick: "Tinker Tailor Soldier Spy." Yes, it's a little rushed, but no film felt as righteously in its world as "Tinker Tailor" did this year, or mined it for as much drama.  ("Moneyball," though, came close.) The Academy will like "The Descendants."
Ernest's Pick: "That movie with the people in brown nodding at each other and wearing big glasses -- what was that? I'm voting for 'The Descendants' -- a nice, funny little drama about a man overcoming grief, with the help of his kids and a whole lotta money."